Eden Hazard makes the Top 6 most attended presentations
50,000 Real Madrid fans packed the Bernabéu to watch the Belgian be officially unveiled. Cristiano and Kaká drew bigger crowds back in 2009.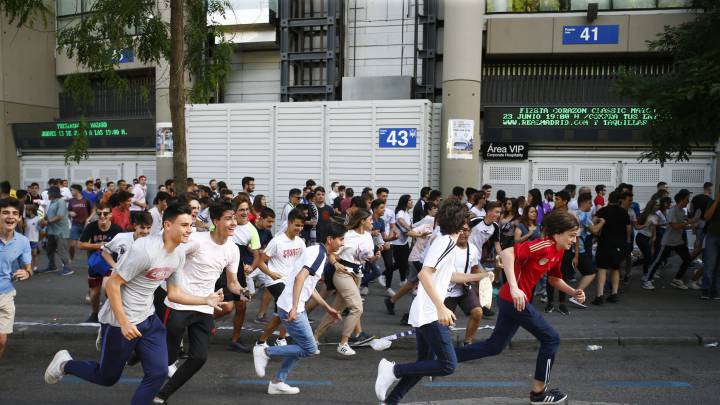 Eden Hazard's official presentation at Real Madrid made the Top 6 in terms of attendance. Around 50,000 fans turned up to welcome the Belgian player to his new club - the third largest crowd at the Bernabéu for the presentation of a new player. Ricardo Kaká drew a crowd of 55,000 in June 2009, when Madrid decided to open the doors of their stadium to the public to welcome big name-signings - that was topped a few days later when a near sell-out crowd (75,000) showed up to see Cristiano Ronaldo unveiled. When Los Blancos signed James Rodríguez in July 2014, a 36,000-strong crowd braved the searing summer heat to welcome him on board at his unveiling at the Santiago Bernabéu.
Other presentations to have drawn big crowds
Other players have attracted huge crowd when they were presented by their respective clubs in Europe - for example, an estimated 65,000 fans filled Stadio San Paulo to see Maradona's first day at Napoliin 1984, 60,000 filled the stands to see Zlatan Ibrahimovic presented at Camp Nou in 2009 slighlty more than the crowd attendance for Neymar's first day as a blaugrana (57,000)
Hazard gave his first words as a madridista at the Santiago Bernabéu, before kicking dozens of footballs up into the stands and scoring a penalty into an empty net: "Thank you very much everyone. ¡Hala Madrid!" he said.
Largest crowds to see a player presented:
1. Cristiano: 75,000
2. Maradona: 65,000
3. Ibrahimovic: 60,000
4. Neymar: 57,000
5. Kaká: 55,000
6. Eden Hazard: 50,000
7. Fernando Torres: 50,000
8. Carlos Tevez: 45,000
9. James: 36,000
10. David Villa: 35,000