Real Madrid's Keylor Navas attracting no firm offers
Navas had seemed to be certain to leave Real Madrid, but the conditions being set by the goalkeeper are making a summer exit less likely.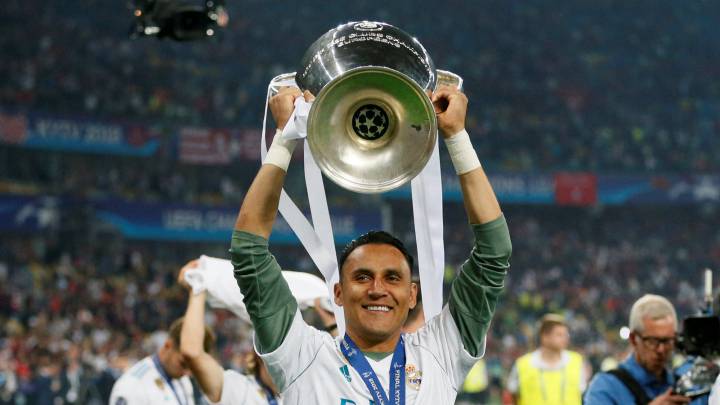 Keylor Navas had seemed all but certain to leave Real Madrid after being told by head coach Zinedine Zidane that Thibaut Courtois is to be the LaLiga giants' number-one goalkeeper next season. However, the likelihood of the Costa Rican being sold this summer now appears to be diminishing.
There are two chief reasons for this: the conditions that Navas is setting for a departure from the Bernabéu, and the lack of firm offers coming in for him. He is willing to leave, but wants Madrid to let him go on a free and pay up the remaining two years on his contract. What's more, he is after a 7m-euro annual salary (2m more than he currently earns) at his next club.
1


United, PSG can afford wages, but don't look like moving for Navas
Madrid chiefs are so far refusing to accommodate the first two demands, while only two mooted suitors, Manchester United and Paris Saint-Germain, are in a position to give Navas the pay packet that he is asking for - and neither club now looks like taking the 32-year-old off Los Blancos' hands this summer.
United have declared current first choice David de Gea not for sale. Despite failing to qualify for next term's Champions League, the Premier League club are determined to keep hold of the Spaniard, and have turned down a significant bid from PSG.
Porto, Benfica also in frame for Navas, but can't pay his salary
This might have paved the way for Navas to go to Paris instead, but Leonardo's appointment as sporting director in place of Antero Henrique has led the French champions to shift their attentions to AC Milan's Gianluigi Donnarumma, who is available for 60m euros. Navas has also been linked with Portuguese pair Porto and Benfica, but neither club can afford his wage demands.
Against this backdrop, there is a growing possibility that the goalkeeper has not in fact played his last game for Real Madrid...