Real Madrid: Hazard will score more, assist less at Bernabéu
According to research from Olocip, which applies Artificial Intelligence to profesional football, the Belgian will be a more lethal finisher in LaLiga.
Olocip, a pioneer company in the application of Artificial Intelligence applied to professional football and founded by former Real Madrid midfielder Esteban Granero, has carried out a predictive study on the performance of Eden Hazard at Real Madrid for the 2019-20 season.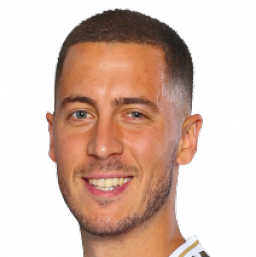 Hazard is the marquee signing of Florentino Pérez's Galáctico 3.0 project, joining the Liga giants from Chelsea in a deal worth over 100 million euros. The expectation generated by the Belgium international is considerable and Real Madrid fans are already asking themselves: how will he fit into Zinedine Zidane's tactical system? How many goals will he score? How will he gel with Karim Benzema and the rest of the side's current star players? How will he adapt to LaLiga and what impact will his arrival have on the team as a whole as Madrid seek to banish the memory of a bitterly disappointing 2018-19 campaign as swiftly as possible?
It is now possible to predict the answer to those queries with greater certainty than ever before by the application of science, Artificial Intelligence and prediction.
"Descriptive analyses performed with past statistics are decontextualized. Artificial Intelligence allows the player to be placed in his new environment, transforming spatial-temporal data into understandable predictive models that provide useful and objective knowledge in a future context," says Marco Benjumeda, AI Specialist at Olocip.
Hazard to provide a more direct scoring threat at Real Madrid
Taking into consideration Hazard's career to date, his move to a new league, his new teammates and hundreds of variables, Olocip's analysis predicts that Hazard will score a goal for Real Madrid every 180 minutes approximately, and will provide an assist every 260 minutes played.
At that rate, if the attacker played the full 90 minutes of all 38 Liga matches in 2019-20 he would register around 19 goals and 13-14 assists, averaging between three and four attempts on target for every 90 minutes played, exceeding his performance in goals scored in his final season at Chelsea (16), but by contrast achieving a slightly lower rate of assists (15).
Next season it is expected Hazard will provide a more important goal-scoring role than he did at Chelsea, with more goals, efforts on target and more verticality than under Maurizio Sarri in last season's Premier League.