Real Madrid's Mendy: "I'm going to give everything for this club"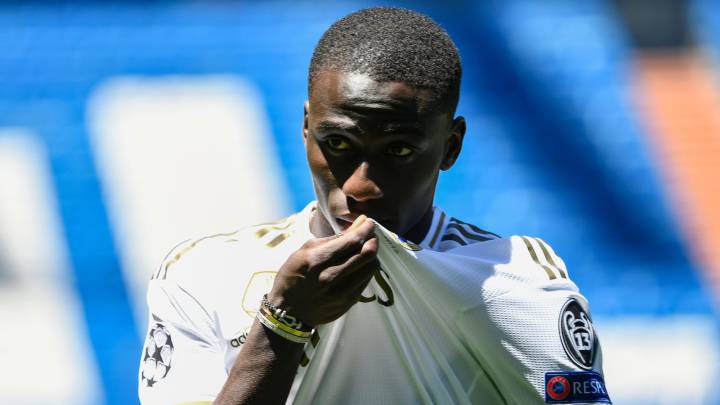 And that's it! Mendy exits stage left and that's a wrap! The new Real Madrid player got through the obligatories and will doubtless now look forward to meeting his new teammates and getting started. Thanks for joining!
"I have come to try and play, but it's the manager who decides."
After being named the best left back in France two seasons in a row, how does he see this season panning out? "I hope it's a good season for the whole team."
"Sergio Ramos and Benzema," he replies. "And all of them, of course."
Who does he most look forward to playing with?
After a diplomatic "can you repeat that" the answer is fairly stock: "I'm here to do my best and to do whatever the manager wants. Whoever he decides will play, will play. Marcelo is a fantastic player and has had a great career and I hope to learn from him."
Does Mendy think he'll be the starting left back or back-up to Marcelo?
"I started out on the wing, then dropped into midfield and finally left back, so I like to get involved in attacks."
Are you an attacking full back and do you play anywhere else?
Asked how he felt today, Mendy admits he was a bit nervous but then smiles and says that he's pretty sure he'll adapt well with Zidane at the helm.
"They said I'd never play again, I was in a wheelchair and I was in a hospital for months in rehab learning how to walk again and now I'm at Real Madrid. It's incredible." Quite.
Mendy says he's spoken to Varane about Madrid but hasn't had much contact with any of the other players.
Is the price tag extra pressure? "I just want to make the world dance," Mendy replies. No, he doesn't really - as he sensibly points out, it's an agreement between the clubs and really doesn't have much to do with him.
Asked how much influence Zidane had in the move, Mendy says he hasn't really spoken to him yet but is looking forward to doing so.
"It's up to do the manager to decide who to play, but I'm here to compete."
How does he see the competition here and does he think he'll be France's left back at the Euros?
"Well, we've never seen each other with our shirts off so I'll have to ask him," Mendy chuckles.
Ah, the Marcelo question... how does he measure up physically? Odd question...
"I'm here to improve, to give everything I can for the club, the fans and the team"
What dreams do you want to achieve here?
"At first I didn't believe it, it's such a big club!"
What was your initial reaction when you heard Madrid wanted to buy you?
Asked about his journey to get here, and his physical problems as a child, Mendy says he never gave up, he always chased his dreams and here he is, at the best club in the world.
Very happy, of course, to be playing for the biggest club in the world and he hopes to win lots of titles.
And here we go, question 1: how does he feel being presented as a Madrid player?
Emilio Butragueño starts with the welcomes...
Here we go, finally.... we will hear from Mendy!
Blimey, they're taking their time... Mendy's sister seems to agree, giving her watch a long, hard look.

And with El Presi after putting pen to paper...

Ferland and family with Florentino
We're about to get underway with the presser...
Now we await the Frenchman's first press conference...
A family photo on the turf, then a few more with some blokes in suits... we won't lie, haven't a clue who they are.
And the big moment.... he points, he caresses, and yeah, there we go, a huge cheer as he kisses the crest!
All's fair in love and balls....
Mendy posing for the paps, looking very at ease.... now for a few keep ups, and he's off to greet the fans. A few balls into the crowd, leading to a few minor scuffles in the rush to bag one.
A huge cheer goes up from the crowd, swiftly drowned out by the old Hala Madrid business....
And here comes Mendy for his first tickle of the Bernabéu turf.
Here come Mendy's family. We're loving his mum's handbag, which has been clutched regally throughout proceedings. She's not let Florentino within a metre of it, probably wise the way he's splashing the cash this summer.
Pretty sure we just saw Mark Wahlberg in the crowd... which was a bit odd.
Mendy is donning his new kit and will be out to greet the fans in a moment or two.
Ooooh, breaking news... Mendy's locker is between Fede Valverde and Lucas Vazquez, suggesting Mendy may get the vacant number 16 shirt...
The fans in the Bernabéu are starting to get excited now as it must have been announced that Mendy will be out in a tick...
A family photo with the player and his new shirt, with Raúl, Arbeloa and Roberto Carlos bombing in at the back...
He's very proud to be at the biggest club in the world, thanks to everyone involved in allowing him to move to the Bernabéu and the obligatory Hala Madrid, and merci au revoir. We'll hear plenty more from the player when he gives his first presser later on, where no doubt he'll be asked 16 questions about Neymar and two about himself.
"Welcome to Real Madrid," and El Presi is off. Here comes Mendy...
Florentino noting that Lyon and Real Madrid enjoy a good relationship, which helped smooth the transfer. Now a quick tactical analysis of his new player, being very much read from notes provided by Zizou...
However, as he notes, half of Europe wanted to sign Mendy but he chose to join Madrid...
On go the headphones from Mendy... Jean Michel Jarre or a translation device? It has to be said that Florentino does sound rather unfortunately like an unenthusiastic vicar giving a Sunday sermon to an empty church.
Nice touch as he welcomes Ferland's mum and sisters by name before running through the usual list of attending dignitaries.
Everybody in the VIP room thoroughly enjoying this clips reel. Even Florentino has allowed himself a little smile at what's to come from the full back.
The video montage is underway and he's just pulled off a Zidane roulette in a France shirt.... That will do his first day at the new office no harm at all.
Mendy has said he is looking forward to working with Zidane, a coach he feels will improve him as a player. We're sure his coach will be quite happy to have such an assured left back on his books as well.

Here's the first glimpse of the Frenchman with his new threads.
Mendy's family have arrived in the VIP room and we're about to get underway.
There's a decent turn-out at the Bernabéu to welcome the France international, who is currently posing with his shirt for the photographers. We'll be hearing from him shortly, after Florentino takes the stage.
Mendy has arrived at the Bernabéu and is signing his contract alongside Madrid president Florentino Pérez before being handed his shirt, as with all recent signings sans number as we await the outs that will inevitably follow all the recent ins.
Here's a little montage of Mendy's flicks and tricks, and he isn't shy about putting in a reducer or two either.
Mendy is primarily a left back but he can also push up into midfield, which will please Zinedine Zidane with the Madrid coach not having a lot of faith in his current crop of youngsters like Dani Ceballos and Marcos Llorente. He was named in the Ligue 1 team of the year in both of the past two seasons and appears to have established himself as Didier Deschamps' first choice recently ahead of Lucas Digne.
Proceedings will get underway at around 13:00, with the usual format we assume: a few words about Real Madrid's grandeur from Florentino Pérez, the shirt presentation, a kick-about on the pitch and a bit of interaction with the fans and then Mendy's first presser as a Madrid player.
The standard medical ins-and-outs were taken care of this am with the 24-year-old left back given a clean bill of health.
The France international, who was in Didier Deschamps squad for the most recent round of Euro 2020 fixtures, becomes Real's fifth signing ahead of the new season after the arrivals of Eden Hazard, Éder Militão, Rodrygo and Luka Jovic.
Hello and welcome to AS English's live coverage of Ferland Mendy's presentation as a new Real Madrid player at the Santiago Bernabéu stadium on Wednesday 19 June at 13:00 CEST.