Benfica president in Madrid to negotiate Keylor Navas deal
Luis Filipe Vieira made the most of his trip to Madrid to sign Raúl de Tomás to enquire about Keylor Navas' situation. The club gave him an answer.
According to Portuguese sports daily A Bola, Benfica president Luis Filipe Vieira made the most of his trip to the Spanish capital this week to sign one Real  Madrid player and enquire about another. The main purpose of Vieira's visit was to gain an agreement with Madrid for Raúl de Tomás but while he was at the Bernabéu, he also asked about Keylor Navas' situation. Porto and Benfica have a shared interest in the Costa Rican goalkeeper - the former as a replacement for Iker Casillas if the Spaniard decides to call time on his playing career.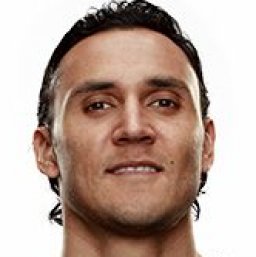 Young keepers coming through at Benfica
As for Benfica, they have been in a need of an experienced goalkeeper since Ederson Moraes left to join Manchester City a couple of years ago. The club made up for Ederson's departure by bringing in younger keepers Ivan Zlobin and Mile Svilar but both still need time to develop. Then there is Bruno Varela who spent last season out on loan with Ajax and will return - possibly to compete with first choice keeper Odysseas Vlachodimos.
Keylor's transfer demands
Real Madrid told Luis Filipe Vieira that they would be willing to sell Keylor - but only in August, not before. Also, the player has set out his own conditions if he agrees to move on. Keylor insists that he must be allowed to leave on a free transfer and will only join a club which guarantees him a salary of seven million euros. However, Madrid are against rescinding his contract to let him leave on a free and the other problem for Benfica would be Keylor's wage demands. The Lisbon-based club would struggle to pay such high wages and the only way they could land the 32-year-old is if they strike some kind of deal with Madrid