Zinedine Zidane's outstanding summer tasks
With less than three weeks until the start of the preseason for Los Blancos, the French coach has plenty on his to-do list.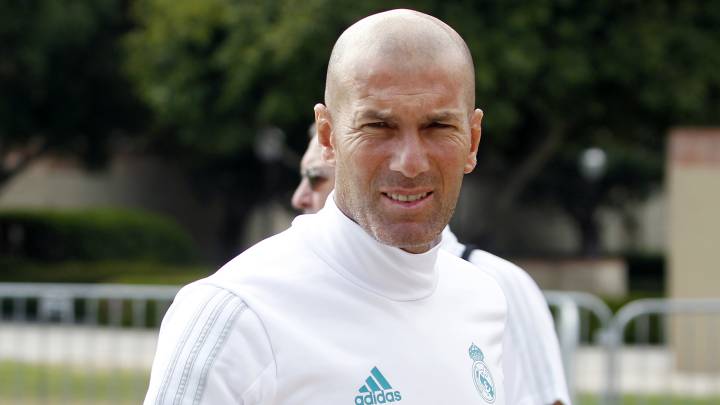 The 8th day of July, when players start to return from their summer holidays, is not far away. It is then that Valdebebas will welcome back some familiar faces, as well as some newer ones, before they head off on a plane to begin their North American tour. As we've seen in the early days of the transfer window, the club has been keen to get its business sorted as quickly as possible to strengthen the playing squad, however, there is still plenty on manager Zinedine Zidane's plate.
Bolstering the midfield
With the likes of Eden Hazard, Luka Jovic, Rodrygo, Éder Militão and Ferland Mendy already in the door, touches to the attacking and defensive areas are clear. What has also been identified in the planning, though, is the need for some fresh blood in the middle of the park.
If it was solely up to the French coach, there is no doubt that Manchester United's Paul Pogba would be a Real Madrid player next season. The player has also made noises towards a move to the Spanish capital, stating while in Tokyo recently: "I think for me it could be a good time to have a new challenge somewhere else," potentially using a similar formula to that of Hazard following the conclusion of his season at Chelsea. United appear to want to hold onto their star, despite mixed views from their fans, but with the prospect of playing in the Europa League, he may push hard for an escape.

An alternative in midfield is Christian Eriksen. Although still a significant investment, the Dane would cost less than the World Cup winner, and is the preferred option for the club. The player was reportedly keen to make the move, but with the option constantly being delayed, his initial resistance to renew with Tottenham past the current 2020 has softened.
Flood of departures
Although not solely Zidane's responsibility, ensuring that the preseason squad is trimmed to include as few players as possible that won't feature next season will suit bonding and preparation. The focus in recent weeks has been on bringing in reinforcements, but departures must also be confirmed soon. Whether through transfers, swaps, or even potentially just letting them go, the aim is to see at least 12 players head in the opposite direction to those new faces being presented to the fans.
Hierarchy in goal
With the departure of Keylor Navas - agreed, but not yet completed - the battle over who is first choice in Madrid's goal in favour of Thibault Courtois is now resolved. The decision for Zidane, therefore, is now to determine who will fall in line as the team's second choice. Luca Zidane has been the third goalkeeper in recent seasons, but the intention of the club is to look for a way to loan him out for at least next season. Upon arrival, Andriy Lunin was immediately sent out on loan to Leganés, and may well remain there. Who can come in to play second fiddle to the big Belgian? Could Zidane's recent visit to see Luis Llopis be a factor in the decision?
In the final stretch of last season, Zidane stated that his new project would involve a flexible system. The 4-3-3 formation has been his general go-to plan so far, one that was conditioned when the frontline of Bale, Benzema and Cristiano was a given during his first spell in charge. We have, though, seen the Frenchman mutate to a 4-3-1-2 style, using Isco as playmaker, and also 4-4-2 at other times, depending on available personnel. The signing of Hazard, and the clear desire to bring in Mbappé and Pogba, open up the possibilities, and he will want to be in a postion to start familiarising his squad with his ideas early into the upcoming friendlies.
Real Madrid's preseason schedule
Day
Date
Time (local)
Opponent
Location
Sunday
21-July
02:00
Bayern Munich
Houston
Wednesday
24-July
01:00
Arsenal
Landover (Maryland)
Saturday
27-July
01:30
Atlético Madrid
East Rutherford (NJ)
Tuesday
30-July
18:30
Tottenham Hotspur
Munich
Wednesday
31-July
TBC
Bayern or Fenerbahçe
Munich
17 or 18 August
LaLiga kicks off
Finding physical form
One of the key figures in Zidane's coaching staff over recent seasons has been his physical trainer, Antonio Pintus. The Italian arrived in 2016 and working alongside the manager quickly earned the professional respect of the squad. He was the architect in previous seasons of keeping much of the playing staff fit enough to endure the long campaigns that came with winning three consecutive European Cups. Julen Lopetegui dispensed with his services but Santiago Solari brought him back in. After accepting an offer from Inter Milan, however, there is a void that needs to be filled.