Algeria players delighted by World Cup 2022 stadiums
"I think it will be one of the best World Cups we have ever seen. We are all looking forward to it", said star player Riyad Mahrez.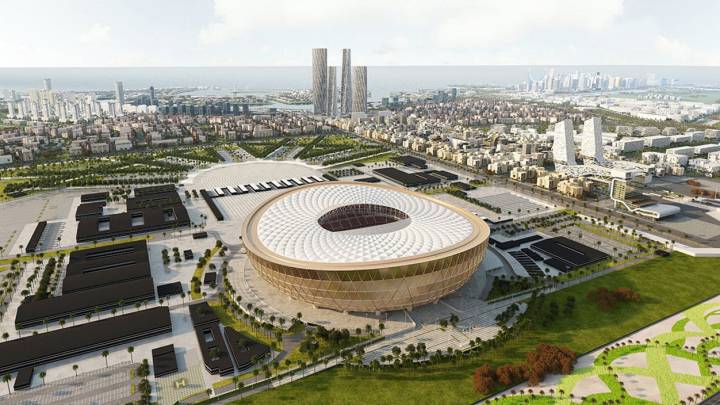 Algeria's star player and coach have both praised the Supreme Committee for Delivery & Legacy (SC) for its plans and preparations for Qatar 2022, with Riyad Mahrez stating he expects the tournament to be the 'best ever' FIFA World Cup.
Algeria in Qatar preparing for Africa Cup of Nations
The Manchester City winger, a Premier League winner in 2016 and 2019, visited the SC's Legacy Pavilion with his Algeria coach – and former Qatar national team boss – Djamel Belmadi while in the country preparing for the upcoming Africa Cup of Nations.
After being shown the plans for the tournament – and beyond in legacy mode – the 28-year-old said he was excited by what he had seen, and spoke of the importance of the Arab world being able to host football's most prestigious tournament.
"It's very important for everyone," said Mahrez. "It's a massive organisational task, an unbelievable one. We came here to see close up how it will be and I think it will be one of the best World Cups we have ever seen. We are all looking forward to it."
Algeria: African Cup of Nations winners in 1990

Algeria have not won the African Cup of Nations since claiming the title on home soil in 1990, but following the Qatar training camp, Mahrez was in optimistic mood for his nation's chances.
"It will be difficult, but we are all very confident," he added. "We are training very hard to be ready, we came here to have the same weather as in Egypt so that we can adapt ourselves and ensure we have done everything we can to be ready for our first game."
As well as Algeria, a number of other African Cup of Nations teams – including Burundi, Cameroon and Mali – are also in Qatar making use of the world-class training facilities ahead of the competition.
The visits were facilitated by the Qatar Football Association (QFA) and made possible due to its ongoing close relationships with numerous associations across the region.
Adding his own words of welcome, QFA General Secretary Mansoor Al Ansari said: "It has been our pleasure to welcome each of these teams to Qatar, to use our world-leading training facilities as they prepare for their respective African Cup of Nations campaigns.
"We wish every one of our visitors well in Egypt, and look forward to welcoming them back here at any time in the future – and of course, in 2022."
Algeria heading to Cairo

Algeria played their first warm-up friendly against Burundi, with the match finishing 1-1, before they took on Mali on Sunday, losing 3-2.
Algeria travel to Cairo today, Wednesday, where they'll play their first Africa Cup of Nations match against Kenya on Sunday 23 June.