"Ancelotti wants James and we will make a sacrifice to get him"
The president of Napoli has confirmed that his club are in the race to sign James Rodriguez after Ancelotti made an express with to get the Colombian.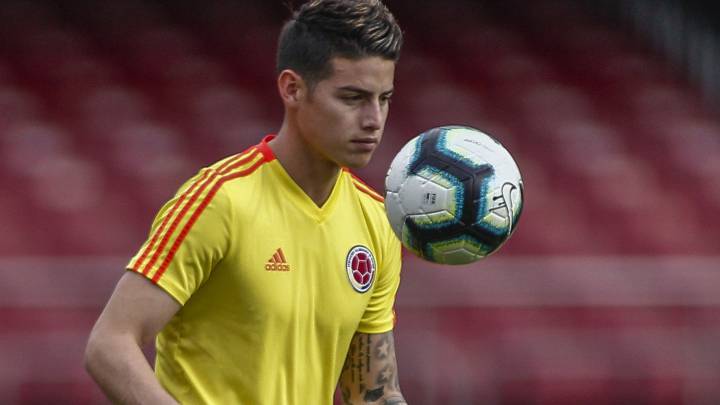 Napoli could make 'an important sacrifice' to keep Carlo Ancelotti happy after the Italian asked the club to sign James Rodríguez this summer. The Colombian is on the market after returning to Real Madrid this summer following a two-year loan deal at Bayern Munich but he admits he is still in the dark regarding his future.
Aurelio de Laurentiis confirmed the rumours surrounding Napoli interest in the Colombian and also confirmed that the Serie A side would be playing two friendlies in August against Barcelona.
Ancelotti wants James but Lozano an option too
"James Rodriguez is one of Carlo Ancelotti's wishes," he told Radio Kiss Kiss Napoli. "I don't know if he answers 100% of the demands of our play but we can't doubt the talent and the professionalism of the player. I will take responsibility for the manager: he wants him a lot. He had him in others teams and he knows how much he is word. I have him the 'okay'. He'll be expensive but we will move ahead. If you have to make a sacrifice, and you can, you can do it. Jorge Mendes is the best agent in the world and we hope to find an agreement thanks to him."
The club's chairman has picked out Hirving Lozano as a potential alternative to James, who is the main priority. They Serie A side would prefer to loan James with an option to but, he says. "We are looking for a solution, if it's not possible, we will speak with Raiola about signing Lozano," he continued during the interview.
He also spoke about Raul Albiol's potential departure as he closes in on a move to Villarreal. "Raul has disinterest in continuing with us and nobody is obliged to stay here. Considering his age, he would be doing us a favour."