Zidane's mission to reboot Asensio
Two summers ago, Asensio had fans at his feet, but since then his magic has faded. Now it is up to Zidane to get him back to his best.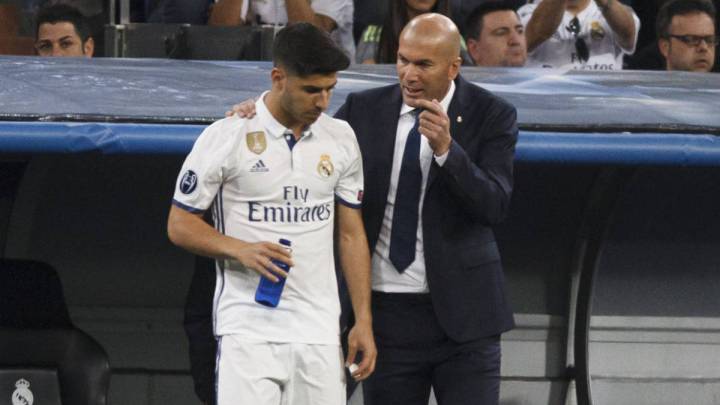 Two summers ago, Marco Asensio had Real Madrid fans at his feet after helping the club to a famous Supercopa victory against Barcelona.
In the first leg of the final in Camp Nou on 13 August (in which Cristiano was famously sent off), the then 21-year-old Spaniard killed Barca's hopes of a comeback, scoring Madrid's third goal in the 3-1 victory with a stunning strike from 25 yards.
In the second leg on August 16, the young Spaniard, this time a starter, had the Bernabéu on its feet after just four minutes, with an equally superb strike, this time from 30 yards.
A few days later, he completed his fantastic month with two more fine goals against Valencia, preventing what looked like an inevitable defeat in the absence of the sanctioned Cristiano.
Both fans and commentators were getting excited about the young striker, so much so that he was even hailed as a future contender for the Ballon d'Or. But as time passed, his magic faded and he began to lose his ownership on a starting place. And at the 2018 World Cup he hit his rock-bottom the day of Spain's shock elimination against Russia in last 16.
'Asensio ceased to be Asensio'
Last season things didn't much improve. Asensio had ceased to be Asensio. In LaLiga he played 19 games, managing just one goal and four assists. After having been resigned to the bench under Santiago Solari, Zidane returned and tried to reignite him by giving him a starting place once again. But he failed to take advantage of the French coach's confidence.
Last season, while Solari was still in charge, Asensio said it wasn't his responsibility to carry the team. "There are players who are much more experienced," he said in an interview. "they're the one who have to lead the team". Those comments did not go down well in the stands at the Bernabéu.
Now it's up to him to change the attitude towards him among the fans, although it will not be easy. But Zidane is the first one that needs to show if he really wants to get Asensio back to his best or not.