USA beat Sweden with goals from Horan and Heath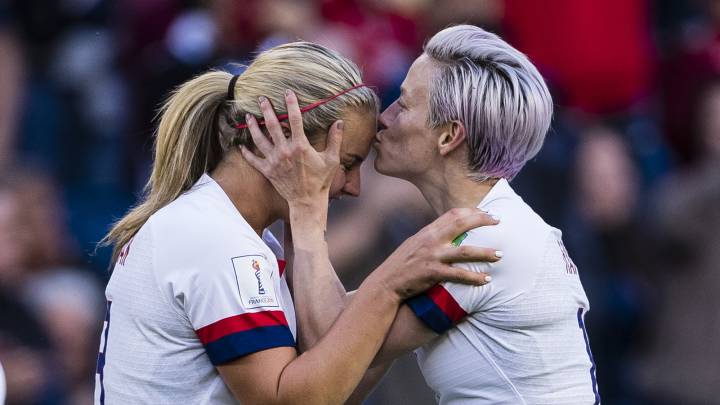 Sweden vs USA: Women's World Cup live!
Sweden with one last chance maybe. Corner coming in.
Free sent in by Heath and it's too close to Lindahl.
Horan fouled in the middle of the field.
Seven minutes of added time.
Lloyd through on goal and looks to wrap it up by Lindahl saves. shes kicked it straight at her.
Sweden incapable of breaking US down and US not to concerned with scoring again.
Game is really petering out here.
USA with a corner and they're in no hurry to take this. Heath walks over to take.
Ball sent in and lands on the top of the net.
Poor pass back from the USA and Sweden have a corner.
Christen Press runs the ball over the line as she tries to take off down the right.
Sweden starting to respond here and they attack down the left. Lovely cross in and it's headed over by Bjorn.
Ball zips across the box. Wide!
Foul by Lloyd as she defends USA's goal. It's Jakobsson she bundles over. Free for Sweden in a dangerous position.
Yellow for O'Hara for a late tackle on Seger. She arrived late and cleaned out the Swedish player.
Talk of offside. Lloyd was but she didn't interfere.
USA threaten again with Lvelle involved but Sweden clear. Ball cleared and it is crossed back in. USA not giving up on this one.
Lavelle arrives with a strike and she can't get any power on it.
We are back underway for the second half.
HALF-TIME! Horan goal sepataes the sides.
Jacobsson with a nice cross and Naeher palms it away to safety. USA survive a scare.
Into the second and last minute of added time.
Rapinoe has a crack but her shot is blocked.
Another counter comes to nothing.
USA have been wasteful too though.
They just can't get through USA's midfield though.
Closing in on half-time now as Sweden win a throw.
Lavelle the latest to try her luck and she sees her shot deflected and rest in Lindahl's gloves.
Still no second goal. Another long ball down the field before it's cleared. USA continue to pile it on though.
Free sent in an cleared by Sweden. USA putting some pressure on and they've had 63% possession but they still can't find that second goal.
Another dangerous attack by USA as Morgan looks for Heath but it's too far ahead of her.
Ball nearly falls to Horan but Lindahl grabs it and sends it out the field. Close to being a second.
Sweden defending again as Heath sends a cross in. Cleared for another corner.
Sweden trying and failing to break down USA so far. They have defended well but no real chances in attack and USA are dominating the middle.
Cross sent in and Lindahl punches it away.
Lavelle with the throughball to Rapinoe. Lovely pass but Rapinoe was offside and sends it into the side netting anyway.
Horan release Rapinoe down the left but it's too far ahead of her and Sweden intercept it.
Strike from Sweden that forces a save from Naeher. Easy for the keeper really.
USA controlling possession now. Ball out wide to Heath and she runs at the defense. Overlap isn't seen, or isn't used, as USA lose it.
Morgan shoots again. It bounces up awkwardly for her after a Mewis cutback. Lands on the roof of the net but she's proving a handful again as usual.
Shout for a handball as Sweden attack but no whistle and USA counter. Morgan from an wakward angle sends it over the bar. She tried to chip the keeper with an ambitious effort.
Shot from way downtown. Blackstenius tries her luck but Naeher grabs it.
So close. Rapinoe with the cross and Morgan lurking. Lindahl parries and then grabs it with Morgan almost recovering to cause problems. Sweden still holding out.
Ball pops out to Dunn and she hits it on the half-volley but it's over the bar.
Ball inside to Morgan from the left. Very nearly gets something on it but it's out for a corner.
They win the ball back and looks dangerous on the break. Lavelle out wide to O'Hara but she loses it. Sweden very much holding their own so far.
USA having to defend now. It remains to be seen how good they are at the back after Thailand and Chile failed to really challenge them in their first two games.
VAR had a look at the goal and it seemed a player was offside and interfered with the keeper but the referee says there wasn't enough in it. GOAL stands and USA are on the attack again.
Nice cross in from the right as Rapinoe chases it down and gets to it. She crosses and wins a corner in the end. US' first of the night.
The two teams captains are up for the coin toss. Morgan and Seger as they shake hands and the coin is tossed.
Between the two teams, they have scored 23 goals in four games and conceded just one! Something has to give tonight.
USWNT XI: Naeher, Mewis, Sauerbraunn, O'Hara, Dahlkemper, Horan, Morgan, Rapinoe, Lavelle, Heath, Dunn.
Sweden XI: Lindahl, Andersson, Sembrant, Asllani, Jakobsson, Blackstenius, Ilestedt, Bjorn, Zigiotti, Seger, Schough.

Hello and welcome to the Women's World Cup action between Sweden and USA. This is the last group game for both sides as they look to top their group! Kick-off coming at 21:00 CEST.
.