Dani Ceballos: Real Madrid won't consider offers of less than €50m
AC Milan have made an offer of a two-year loan for the Spain under-21 midfielder but Madrid are holding out for a big fee, as they are for other players.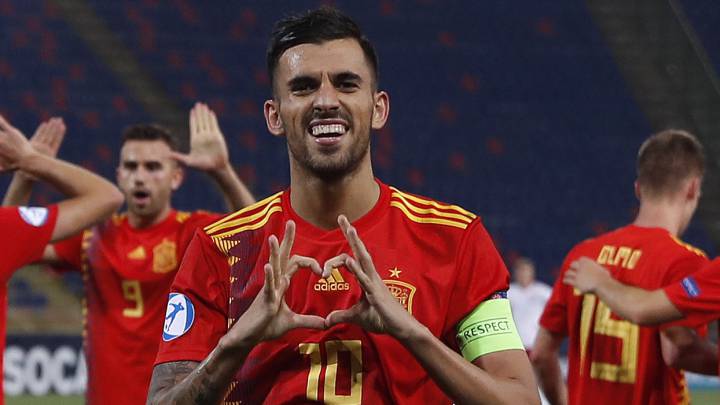 Real Madrid manager Zinedine Zidane is facing an uphill struggle to thin out his squad to the necessary size to incorporate new arrivals Eden Hazard, Éder Militão, Luka Jovic, Rodrygo and Ferland Mendy with Marcos Llorente and Óscar Rodríguez the only departures from the Bernabéu to have taken place so far this summer.
Indicative of the conundrum the Frenchman finds himself in is Dani Ceballos: AC Milan have reportedly made a perfectly sensible offer for the Spain under-21 star of a two-year loan deal while picking up his entire salary and adding a purchase option, but the Bernabéu board are holding out for a straight permanent transfer of 50 million euros.
Real are attempting to install a no-loan policy this summer as they attempt to shift the deadwood that Zidane has made it clear he doesn't want to see on the plane when the squad head off for their pre-season jolly to the US.
But there are only a handful of clubs in Europe who can meet the sort of fees that Real are asking for players they have absolutely no need for, which begs the question why would Juventus, Manchester City or PSG be willing to take them on? Another example is Theo Hernández. Madrid would rather like to recoup the €30m they paid for the left back but an underwhelming season on loan at Real Sociedad has seen his stock fall even further. Interest from Juventus may or may not be genuine – he has been touted as a back-up to João Cancelo in Turin – but the Serie A champions will hardly consider stumping up that sort of money.
Real looking to shift an entire second-string XI this summer
Milan have expressed an interest in Martin Odegaard and Mariano - and apparently met with Theo at the weekend as well – and Madrid would do well not to bite the hand offering to relieve them of half a side they don't want. Odegaard may well end up on loan yet again as Florentino Pérez still hopes his 2015 coup may come good, but there are few others Zidane will sanction lingering on the books. Sergio Reguilón, an academy graduate and fan favourite, will not be sold. The likes of Isco, Gareth Bale, Keylor Navas, James Rodríguez and Jesús Vallejo are all surplus to requirements but proving difficult to offload. Bale, in particular, is seen as the primary route to recouping some of the €303m (before add-ons etc) the club has splashed out this summer.
As things stand, Real Madrid have 24 players registered with the first team squad and a further 23 loan players returning to the club on June 30.
With the current policy in place, the numberless shirts that have been used at recent presentations are going to remain that way for some time. Real can consider themselves lucky that Atlético have money to burn. They are in a minority and Llorente fitted a very specific bill without having to bother house-hunting. The culmination of the various international tournaments currently being played should make the situation clearer for Zidane, but Madrid will have to lower their economic pretensions if they are to make room for Pérez's new toys.