Mbappé: Real Madrid dressing room give thumbs-up to PSG star
Having already attracted other rave reviews from Real Madrid players, Kylian Mbappé drew more Bernabéu praise this weekend...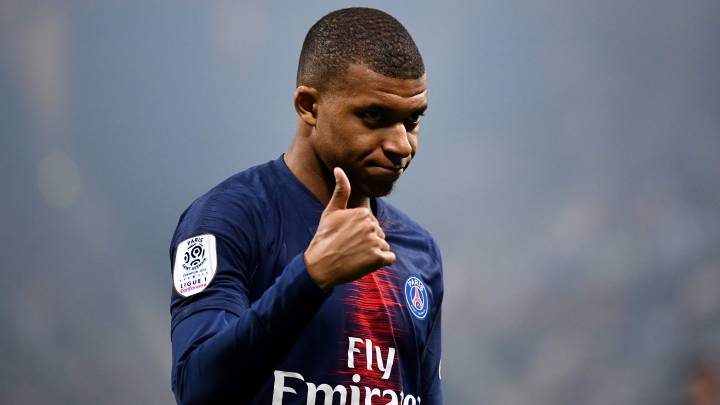 Kylian Mbappé is the dream transfer target among a Real Madrid fanbase eager to see the Paris Saint-Germain ace become the latest 'galáctico' arrival at the Bernabéu.
However, such a move still appears to be a little way off. PSG want Mbappé front and centre in their 50th-anniversary celebrations next year, and he is not a priority this summer at Madrid, where one marquee purchase has already been made in attack in the shape of Eden Hazard. What is beyond doubt, though, is that the 20-year-old would be welcomed with open arms by Los Blancos' dressing room.
Vinicius, Courtois the latest at Madrid to praise Mbappé
On Sunday, Vinicius and Thibaut Courtois were the latest Real Madrid players to sing the praises of the France striker, following on from similar comments by Federico Valverde, Hazard, Ferland Mendy, Raphael Varane...
"All Real Madrid fans are dreaming of Mbappé," Vinicius told the French television programme Téléfoot on Sunday, adding: "Everybody wants to see him here soon and I think he will come. There's no doubt we'd win a lot of trophies together. [...] I really look up to him, he's already won a lot of titles and if he really is going to come that would be great." The Brazilian also revealed that the pair have made contact online: "We chat on Instagram - we send each other messages."

Later that day, Courtois betrayed his doubts about whether or not Madrid could pull off such a deal, but was unequivocal on his eagerness to play with Mbappé. "It's clear that players like him will always be welcome at Real Madrid," the goalkeeper told Spanish TV broadcaster Movistar+ at Formula 1's French Grand Prix.
In early June, meanwhile, Uruguay midfielder Valverde was asked about both Hazard and Mbappé during an international press conference held days before the Belgian's switch from Chelsea to Madrid was confirmed. "If players of that class come to the club then all I can say is I'd be delighted. I think they're great players, and you have to make the most of them," he said to reporters.
During his unveiling by Madrid on Wednesday, meanwhile, Mendy was less expansive - but was, nonetheless, evidently enthusiastic - about the possibility of turning out alongside compatriots Mbappé and Paul Pogba at the 13-time European champions, declaring: "Why not? They're top-quality players."
Hazard and Varane have both previously sung Mbappé's praises
Going further back in time, we find clear seals of approval from Hazard and Varane. In a March interview with HLN in Belgium, the former was asked to choose between Neymar and Mbappé. "If I had to pick one, I'd say Mbappé - not least because I know Kylian very well," the Madrid signing-to-be said, echoing the Bernabéu faithful's verdict in an AS.com poll conducted a few weeks later.

12 months ago, meanwhile, Varane waxed lyrical about his France colleague after winning the World Cup together in Russia: "He has such incredible talent and tremendous maturity for his age. He can do everything and is so, so quick. A move to Real Madrid? I'll always be pleased to have him in my team." Over to you, Kylian, you could almost hear the centre-back thinking...