Zidane's labyrinth: Real Madrid's change of system and style
The French manager wants to tinker with Real Madrid's style and with the wealth of talent arriving at the Bernabéu this summer, he has the options to do that.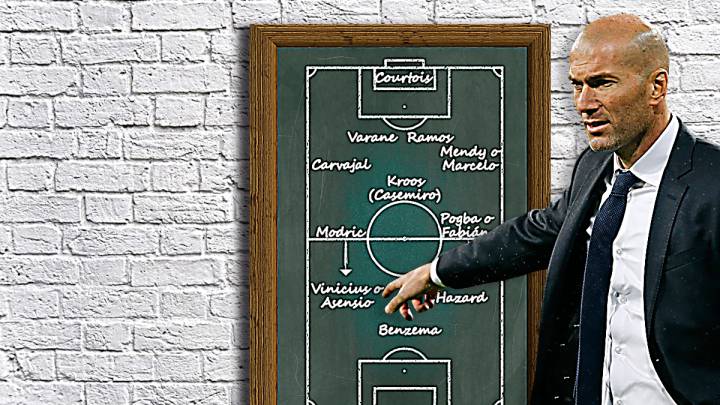 Real Madrid's squad us currently undergoing a significant makeover and all of these new signings, along with the departures that are coming down the line, will affect their style of play. Zidane announced when he returned to the bench that he planned to implement different systems and to re-shape the side's general style and now he has the players to tinker. With the marauding Mendy, Hazard's versatility, the dynamism of Jovic and the desire to bring in either Pogba or Fabián, the ideas he wants to instill in his squad will be possible.
In the two and a half seasons Zidane spent at Real Madrid before leaving last summer, he played, mostly, a 1-4-3-3, to allow the BBC to shine and 1-4-3-1-2 to allow Isco to operate as a number 10. The manager did something similar in the 11 games last season. Nine times he played 1-4-3-3, once with a 1-4-4-2 and another time with a 1-4-2-3-1. Now though, there are more options at his disposal and the players to carry out his instructions
A possible 1-4-2-3-1 (or a variant of it - 1-4-2-1-3), with a double pivot in midfield and will also allow Zidane to pick Jovic and Benzema beside each other.
Zidane to change Real Madrid's philosophy of play
On top of that, it opens the door for a new philosophy. The priority is for Zidane to bring Pogba in order to change the midfield into a more energetic one. That could mean Casemiro's place is in danger. The interest in Fabián, reported by As, also points towards this potential change. The goals they add would eclipse that of Modric and Kroos, Pogba and Fabián scored 16 and seven respectively while Modric and Kroos combined for just five (four and one respectively).
Real Madrid's lack of energy last season supports the need for a change. The Champions League, the competition that drives everything at the Bernabéu, put their faults on display when Ajax ran them off the field and completed 15 kilometres more than them. The World Cup didn't help with Modric covering 72 km during Croatia's journey to the final and Madrid ran out of juice last season. Liverpool's Champions League win shows a model for how football will likely be played for the coming years. France's World Cup win does the same and this might be the template for how Zidane sees his Real Madrid team lining up next season.