AC Milan banned from Europa League next season
The Court of Arbitration of Sport has banned AC Milan from next season's Europa League over a breach of UEFA Financial Fair Play rules.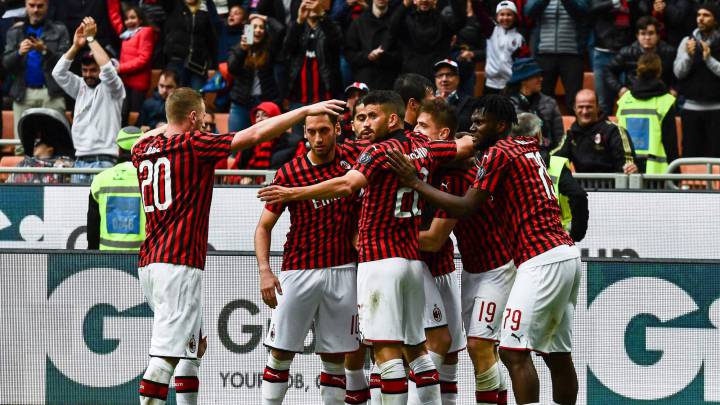 AC Milan have been banned from playing in the Europa League next season.
The decision has been taken by the Court of Arbitration for Sport, which has ruled the Serie A side out of the competition over its breach of UEFA Financial Fair Play rules.
"The Court of Arbitration for Sport (CAS) has issued a Consent Award embodying the agreement reached between AC Milan S.p.A and the Union of European Football Associations (UEFA) concerning breaches of the UEFA Financial Fair Play Regulations by the Italian club," read a statement by the CAS following the ruling.
"AC Milan is excluded from participating in the UEFA Club Competitions of the sporting season 2019/2020 as a consequence of the breach of its FFP break-even obligations during the 2015/2016/2017 and the 2016/2017/2018 monitoring periods".
Official statement from the Court Of Arbitration For Sport (CAS) announcing that Milan will not be able to participate in the 2019-20 Europa League season due to breach of FFP regulations. pic.twitter.com/8ykIfMLc4P

— TheMilanBible (@TheMilanBible) 28 June 2019
AC Milan must resolve issue by 2021
AC Milan had been handed a two-year ban last summer for failing to meet the FFP's break-even obligations related to signing players. However the club managed to appeal the decision which allowed it to participate in last season's edition of the Europa League.
Milan has been warned that they must resolve the break-even issue by 2021, otherwise they will be disqualified from European competitions in the 2022-23 and 2023-24 seasons.
Torina take AC Milan's Europa League spot
The Rossoneri's place in the next edition of the Europa League will be filled by Torino, who finished seventh in last season's Serie A and will now join Roma as the Italian representation in the competition.
Roma qualify directly to the group stages, while Torino will have to go through the preliminary qualifying rounds.