Cameroon and Ghana play out bore draw in AFCON Group F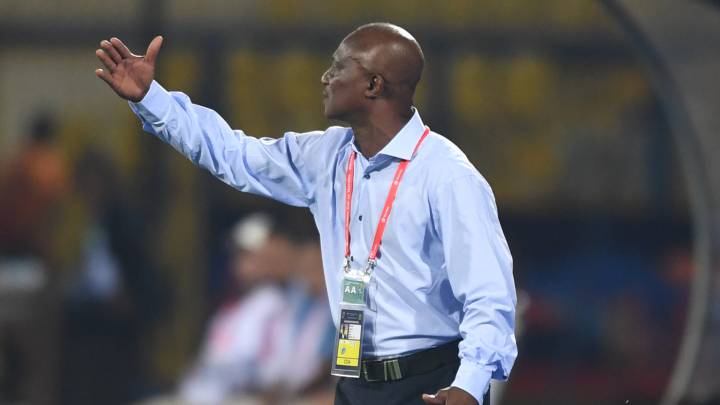 Cameroon vs Ghana: as it happened!
Three minutes of added time almost up here.
Thomas Partey from outside the box. Miles over! He loves hitting them from there.
Yiadom with the effort. Saved by Onana. Ghana improving as the game about to end but they probably deserve more than a point. They've been more attacking, or at least tried to be, than Cameroon.
Chance of the game. That was it! In a game with hardly any chance. Owusu with the run and strike. It absolutely thunders against the crossbar.
Wakaso with the free and it's blocked.
Kunde just on the field and gets a talking to by the referee. Free for Ghana just outside the box.
Cameroon into the box and it's offside. He was a good yard onside! Terrible decision.
Cameroon have made plenty of attacking changes but nothing doing for them yet.
Asamoah Gyan on for Kwadwo Asamoah.
Straight up the other end and Owusu drives into the box before losing the ball. Tame effort after a nice counter.
Game has finally opened up. Shot blocked by Mensah and it hit his chest very, very hard.
Ekambi off too as he is replaced by Bohaken.
Choupa-Moting on for Thomas Bong.
Whipped in by Wakaso. Cleared at the front post.
Cameroon on the attack. Crossed in and cleared by Adams.
Cameroon makes some moves. They will make their first change of the game.
Owusu scurries forward and his show, which looked like it was going a mile and a half wide, is deflected up into the air.
Jordan Ayew pulled down as he races forward. ANguissa the man who fouled him and Ghana have a chance now too create that elusive opener.
Lovely cross but N'Jie can't get his bleached blonde head to it! cross in from the left now and it falls to a Cameroon player outside the box. Over the bar.
Ghana with a little more pace in the last few minutes. Owusu curls it towards goal but Onana grabs it.
Wakaso with an effort now as Partey lays it off to him. Drives it just wide of the post.
Andre Ayew with an acrobatic effort. He caught the ball but says Ngadeu headed it. He wants a corner but it's getting it.
Wakaso fouled. Another slow burner this one.
No changes for either side at the break. Atsu with the hamstring injury remains the only sub.
We are back underway for the second half!
On the brink of half-time. N'Jie with a free from downtown. He sends that one miles over the bar.
N'Jie with a cross from the right hand side now as Ngadeu heads wide.
SAVE! Ofori with an unbelievable save as the ball is crossed in from the right. It dribbles to Bassogog and he shoots. Ofori gets a hand to it! Corner.
Crossed in from Owusu and it's in the direction of Andre Ayew.
N'Jie with the strike. Saved by Ofori with his chest and he turns it around the post. Corner for Cameroon.
Mandjeck with another fairly rough tackle. This time it's Andre Ayew who gets caught late and in the back by the Cameroon midfielder.
Mensah with the challenge as Ekambi bears down on goal. Best chance, or almost the best chance for Cameroon, but the Ghana defender gets a foot in. Corner.
Ball out to Baba, the Chelsea full-back, but it's too heavy for him. Ghana attack and the ball inside to Ayew is the wrong side of the defender. Cameroon get it away.
Cameroon on the attack now.
Ball crossed in by Baba and Jordan Ayew flies through the air to get a foot on it. He can't direct it towards goal though.
Referee in the thick of things calming things down. Corner comes in and Owusu sends it across goal. Nobody there to meet it but another little fright for Cameroon.
Ghana win a corner now. They haven't seen much of the ball recently but have looked more dangerous in attack.
Cleared by Ofori but Cameroon taking over again. They are back in possession.
N'Jie chests down a long ball but he loses out to Adams and then fouls the defender.
Wakaso isn't happy as Mandjeck follows through and catches him in the groin with his studs. He has a point there as it was a little needless from the Cameroonian midfielder.
After a bright start from Ghana, it has been scrappy from both sides. Neither team able to get much going.
Ngadeu with a header towards goal from the corner but the ref said he fouled Adams. There was nothing in that. He didn't touch him.
There's that sub. Owusu comes on for Atsu.
Atsu hhurt his hamstring, it seems, as he shot there. He's down grabbing the back of his leg and while he jogs off the field, it looks like he can't continue.
Atsu takes a shot. He cuts inside on his left and drills a shot just wide.
Cameroon attack down the left. Bassogog meets Adams as he tries to cut inside. Throw for Cameroon. No decent chances for them so far.
Great chance for Ghana. Onana out to punch a cross clear. Played back Kasim Adams drives it over. Great chance! He should have done a bit better there.
Ghana the better side here as the Ayew brothers link up. Andre crosses and it's blocked out for a corner.
Atsu shows a little too much of the ball to Anguissa and he wins it off him. Atsu fouls and a nice move by Ghana comes to an end!
Collins with a cross that's blocked for a corner.
Cross in from the right and it's grabbed by Onana. He starts a counter as Cameroon attack for the first time.
Ghana bring it out from the back as they look for a way through early. Cameroon trap them in the middle and force them backwards.
The nationals anthems are done in a very dark, not very full Ismailia Stadium.
Cameroon versus Ghana! Here we go as the two teams, Ghana in white, Cameroon in green, emerge onto the field.
An array of colours in the stands.
Cameroon have won their last two AFCON games against Ghana and are unbeaten in the competition against the Black Stars (W2 D2).

The Ayew brothers have been involved in 12 of Ghana's last 16 goals in the Africa Cup of Nations (9 goals, 3 assists).
Cameroon are the defending champions, having won the AFCON in 2017. The last team to win back-to-back AFCON titles were Egypt (3 in a row from 2006 to 2010).

Cameroon are making their 19th appearance in the AFCON. They have won it five times (1984, 1988, 2000, 2002, 2017), with only Egypt having been more successful (7 trophies).
Cameroon XI: Onana, Bong, Ngadeu, Biyik, Mandjeck, Anuissa, Oyongo, Zambo, Bassogog, Njie, Toko.
Ghana XI: Ofori, Yiadom, Rahman, Mensah, Kasim, Wakaso, Partey, Andre Ayew, Jordan Ayew, Atsu, Kwadwo Asamoah.

Kwesi Appiah has made 3 changes to the side that drew against Benin.
Ghana - Jordan Ayew
If Andre Ayew is absent from the starting XI, even more responsibility will sit on the shoulders of his younger sibling. Jordan's 42nd-minute strike put his country 2-1 ahead against Benin, though they were unable to retain their advantage in the second half.
Cameroon - Yaya Banana
The five-time winners were not at their fluent best against Guinea-Bissau - hardly surprising after a pre-tournament pay dispute - but Banana's opener put them on course for victory. While goals may not be part of his remit, the defender should expect to be kept busy by Ghana's forwards.
Hello and welcome to our online coverage of the AFCON 2019. Cameroon and Ghana face each other in Group F. Cameroon have three points on the board after a win over Guinea-Bissau in their first game. Ghana could do with bouncing back after a 2-2 draw with Benin in their first game.
Kick-off at 19:00 CEST.
.