James Rodríguez: Napoli await Real Madrid man's arrival
The Italian club remain the clear favourites to land the Colombian midfielder and, following agreement with his agent, will aim to close the operation.
Serie A club Napoli are feeling confident that they will be the side to call upon the services of James Rodríguez for the coming seasons and believe that they can conclude the much-talked about transfer in the next few days.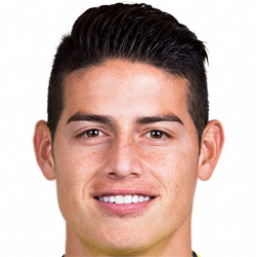 Napoli confident on James
The Italians, as we revealed several weeks ago, have had an agreement in place with the midfielder for some time, with both parties satisfied with a net salary payment of 6.5 million euros.
To finally close the deal, Aurelio De Laurentiis, the club's president, waited for the new 'Beckham Law' to be introduced into Italian football (something that happened on Thursday). That then fell alongside Colombia going out of the Copa América, and Jorge Mendes, the player's agent, was able to complete his other work to see Joao Felix move to Atlético Madrid. Diego Simeone had been rumoured to want to keep James in the Spanish capital.
Barring any significant change in what has been agreed, now the only element to be concluded for James to be reunited with Ancelotti is a final fee being thrashed out with Real Madrid. Florentino Pérez wanted to receive around 50 million for the player, part of the recuperation of big summer investments made, although Napoli were hoping for something more discounted, potentially an initial loan with future purchase option.
The coming week is seen as critical to Napoli finalising their new star as they look to maintain their position at the very top end of the Italian league.