USA through to final after dramatic England encounter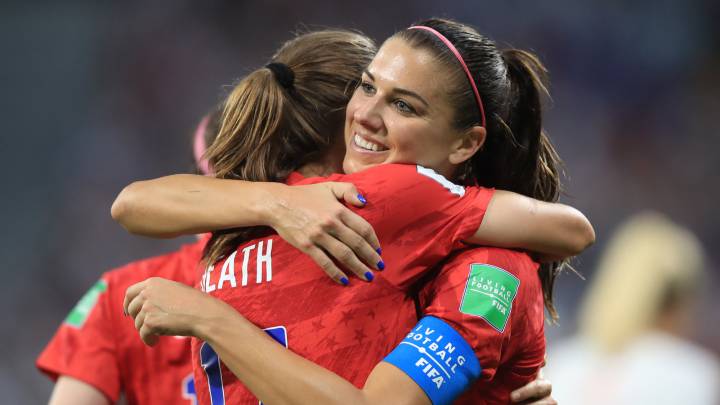 England vs USA: live!
Parris booked for fouling Lloyd. USA's time-wasting is really good.
There will be seven minutes of added time.
England running out of time now.
Yellow for Bright. It's her second as she slides in on Morgan. Red card.
All happening in the penalty area. England pushing for that equaliser.
SHE MISSES! Houghton misses. Naeher gets down to her right and saves it.
PENALTY! The ref looks at VAR and says it's a penalty.
The referee obviously thinks it's significant enough to check for herself.
Carli Lloyd on for Heath.
That's the chance! Ball across from the left. White hauled down as she misses the ball.
England attacking again. No second breakthrough yet though.
Long ball down to Parris but that's way to much. Out for a goalkick.
Moore on for England. She comes on for Walsh.
England piling on the pressure now. Ball played to Jill Scott but she can't reach it.
OFFSIDE! Goal ruled out for offside. That's a pity because of how nice the goal was.
I don't think she was offside BUT that will be looked at by VAR.
Lavelle replaced by Mewis.
Replay shows she was caught on the ankle by Daly.
Lavelle down injured now as she struggled with her knee, it seems.
Heath trying to make something happen just inside the penalty area. She can't and England win a goalkick.
Telford with the mistake. She passes straight to Press and she curls it over. That could have been the end of it!
Long ball down the field can't help England. USA win a throw.
Lavelle drives towards goal. She plays it out to the left but Bronze nicks it and clears. USA looking to end this one with another goal possibly. They've been the better side in the second half here but England not out of this yet.
Scott and Ertz collide now as the pair wind up on the ground. Ertz got their first and Scott kicked her on the foot as the two of them ended up hurt but seem fine now after the referee calms everyone down.
England have a free but Bright was offside. She headed down towards goal and Ertz might have handled it. Doesn't matter anyway because of the offside.
And then she gives Horan the yellow.
Horan and Bronze collide and the referee is calling both of them over. Free for England but the ref has a word with both involved nonetheless.
We are back underway for the second half!
England clear away! Bronze wins it and streaks forward. Dunn stops her, or at least slows her down and concedes the corner.
Corner for USA. England just hanging on at this stage.
Another cross, this time from a free. Sent into the penalty area and Horan heads wide.
Bright could be in trouble here. She puts a hand up to defend the ball against Morgan and the USA player hits the ground. Yellow card.
England having all sorts of problems with those crosses into the box from either side.
Cross sent into the box and Bronze heads away!
Naeher forced into a top drawer save. Shot sent in from miles out. Walsh takes it and she just about gets her finger tips to that one! Unbeliebable save.
Morgan! Another header. 2-1. Ball sent in from the left this time. Her sixth goals in five games and on her birthday too. Lovely cross from Horan.
Sauerbrunn gets a foot on a cross and sends it out for a corner. She nearly turned it into her own net. Corner is sent out of play. Terrible corner.
England go on the attack! Beth Mead gets it at the edge of the box and she tries to turn the defender but slips. She had a real chance there if she hadn't lost here footing.
Back to square one here and it seems both sides happy to just suss each other out.
Morgan on the ground. Bronze jumped up and won the header but we had a bit of a clash of heads. Morgan came out the worst in that one.
Lavelle with another strike. Telford turns it away. Good save!
We have a penalty shout. White goes down under a challenge from Sauerbrunn but it was nothing really. Worth a try from England.
Ball sent straight down into the mixer. Lavelle hits the rebound on the volley and Bright heads clear.
After a really goos start, USA have died out a little. England improving. Horan fouled in the middle now as USA start an attack.
WHITE! England's first proper attack and the ball is crossed in from the left as she taps it home. It goes in off the post and that is the exact response they needed. Lovely cross from Mead.
England foiled again as they attack down the middle this time.
USA threatening again. Lavelle with an effort that blazes over the bar.
They've seen plenty of the ball but no chances so far. USA bossing this.
Lavelle plays Morgan through but she has to come back and they attack down the left instead. Press loses out and England on the ball again.
GOAL! GOAL! GOAL! Press scores. Ball launched in from the right and it makes its way to the back post where Press is waiting to head home.
Much better from England but the ball out to Daly is overhit and she can't keep it from going out for a goalkick.
England win back control after a very wobbly start.
Nice ball over the top by Bright. Too far ahead of its intended target though.
Press crosses and Morgan is there. She is unmarked but the ball floats over her head. Close though.
Free for USA. Press to take. She's too far out to shoot, probably, but....
Lavelle with a nutmeg on Bright and forces a good save from Telford.
Ertz with a nice little move and gets free just outside the area. Crosses and it's cleared. USA have started much better here.
Heath wins a corner against Stokes. Long ball over the top and the two of the scrap it out. Morgan in the middle waiting but it's a corner as no delivery arrives.
Lavelle cross into Horan and it beats everyone. Horan picks it up and crosses again but it's blocked. England on the counter through Stokes.
We have action and it's England who tip off. They're in their white strips and USA wearing red.
The English national anthem first and then the US. Seems the US have more fans in the stadium. Or they sing louder. It could be that too.

"They did have that aura – they are the best team in the world, they proved it at World Cups, Olympics as well, they are constantly delivering on the biggest stage," said Ellen White ahead of the game.
Phil Neville's thoughts on the game: "People say this is a massive game, it's not, Sunday is a massive game. Tonight is just another step on the journey we want to go on."
But, it can still be a massive game, Phil.
England XI: Telford, Bright, Bronze, Stokes, Houghton, Walsh, Mead, Scott, Parris, Daly, White.

If you're looking for something to ready before the game. Try this. It's an article by Megan Rapinoe's girlfriend Sue Bird.
And Bronze responded: "It's a lovely compliment to receive, although I don't believe him."
Here's what Neville said about Bronze: "She should win the Ballon d'Or. She's the best player in the world."
Hello and welcome to our live online coverage of the Women's World Cup semi-final. Kick-off coming your way at 21:00 CEST but we will have team news and build-up before that.
.