Real Madrid: Player sales have already covered Hazard signing
The sales of Mateo Kovacic, Raúl de Tomás and Marcos Llorente have raised 95m euros, plus a further 5m in add-ons included in the latter's move to Atlético.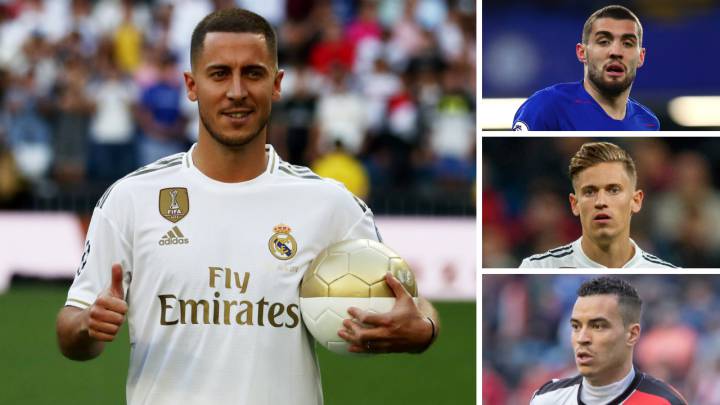 Real Madrid are gradually beginning to offset their summer spend. Having banked 20m euros from the transfer of Raúl de Tomás to Benfica on Wednesday, the LaLiga giants have now brought in 95m from player sales, plus the 5m in add-ons included in Marcos Llorente's move to Atlético Madrid.
With Llorente joining Los Rojiblancos for an initial 30m, and Mateo Kovacic making his loan stay at Chelsea permanent for a fee of 45m, that makes a combined total of 100m that covers the basic amount paid to sign Eden Hazard from the Blues.
However, Madrid still have quite a way to go to break even this close season. So far, Los Blancos' new recruits for next term have led them to shell out 298m euros: 100m on Hazard, 60m on Luka Jovic, 50m on Éder Militao, 48m on Ferland Mendy and 40m on Rodrygo Goes.
On top of that, the prices agreed for Hazard and Mendy are likely to rise in the future, with 5m in incentivised variables included in the purchase of the left-back from Lyon, and the Belgian's fee featuring 20m to 30m in add-ons.
Real Madrid's transfer business this summer
| | | | | |
| --- | --- | --- | --- | --- |
| SIGNINGS | | | SALES | |
| Hazard | 100+ | | Kovacic | 45 |
| Jovic | 60 | | M. Llorente | 30+5 |
| Militao | 50 | | De Tomás | 20 |
| Mendy | 48+5 | | | |
| Rodrygo | 40 | | | |
| | | | | |
| TOTAL | 293(+5) | | TOTAL | 95(+5) |
| | | | | |
Amounts in millions of euros.
Madrid to bank 20m from Theo sale, James to bring in over 40m
As Madrid's summer clear-out continues, though, they are due to net a further 20m from the sale of Theo Hernández to AC Milan, which is to be confirmed in the very near future. It also remains to be seen how much they can make from offloading the likes of James Rodríguez - whose mooted switch to Napoli is expected to be worth just over 40m euros - and from loan fees (such as the deal to send Óscar Rodríguez to Leganés for a second season, which is to cost Los Pepineros 600,000 euros).
As it stands, however, Sergio Reguilón and Martin Odegaard's temporary transfers to Sevilla and Real Sociedad, respectively, have not brought any revenue into the 13-time European champions' coffers.