Official: Chelsea and Atlético agree terms for Álvaro Morata
The striker will remain on loan until June 2020 when he will definitely become an Atlético player. Chelsea unsuccessfully tried to coax him back to London this summer.
Álvaro Morata is staying with Atlético de Madrid, not just this season but for several more years to come. Atlético and Chelsea have reached an agreement for the transfer of the Spanish striker - the transfer will become effective as from 1 July 2020 - until then, Morata will remain at Atleti on loan, as an extension of the deal the two clubs agreed back in January. This time next year, Morata's rights will become the property of Atlético.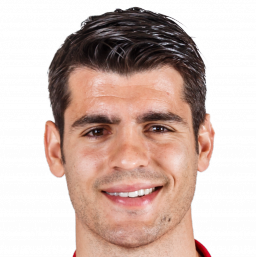 Morata keen to stay, Chelsea banned from signing
Morata has stated from the outset that his intention was to stay at Atlético and see out his 18 month loan contract. However, the situation changed when Chelsea were hit with a transfer ban by FIFA, which forced the club to study bringing him back this summer. There was another option - Atlético could exercise their option to buy the player for 55 million euros. After weeks of negotiations, both clubs finally reached an agreement although the actual transfer fee or terms of the deal have not been disclosed.
Morata has been training with the rest of the Atleti squad since the players returned for the pre-season, and even cut short his holidays to come back earlier than planned. Now though his future has been sorted out - he'll continue under Simeone's order for another year on loan before completing his move to Atleti definitely next summer.