Real Madrid want James to join Napoli over Atlético Madrid
Having already sold Marcos Llorente to Atlético Madrid this summer, Real Madrid would rather not strengthen their city rivals yet further.
James Rodríguez's future lies at either Napoli or Atlético Madrid.
James has told Napoli head coach Carlo Ancelotti that he is keen to join him at the Serie A club, whose president, Aurelio de Laurentiis, confirmed the Partenopei's desire to sign the Real Madrid man late last month. In recent days, however, Atlético have rekindled their interest in the player.
Napoli want loan deal, Real Madrid only open to sale
With the two clubs now seemingly in a straight fight to secure James' signature, the situation at Madrid is as follows: having already sold Marcos Llorente to Los Rojiblancos, the club would rather not strengthen their city rivals any further, and would prefer that the Colombian moved to Naples.
However, the problem is that Napoli want to take James to the Stadio San Paolo on a loan deal, while Madrid are only willing to countenance a permanent transfer - a state of affairs that appears to play into the hands of Atlético, who are ready to buy the 27-year-old outright.
Were Napoli to finally agree to purchase James, who is expected to command a fee of around 40 million euros, the attacking midfielder would be reunited with a coach he worked under at both Madrid and Bayern Munich. Ancelotti sees James as a key potential element of next season's team, while De Laurentiis is even considering bringing Diego Maradona's number 10 shirt out of retirement for the player.
Indeed, Maradona himself has urged James to sign for the club, posting on social media recently: "Come on champ! Come to Napoli! We're waiting for you!"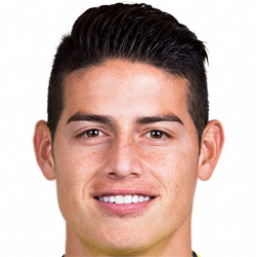 Atlético out to exploit Napoli loan preference
The only reason that James is not a Napoli player already is because the Italians have been unable to come to an agreement with Madrid over the format of the transfer. It's an impasse that Atlético are aiming to take advantage of to persuade Los Blancos' president, Florentino Pérez, to do business with them instead.
Time is working against Napoli: if a resolution is not reached soon, Madrid may be left with no option but to accept Atlético's proposal. However, the Serie A club remain confident that they will finally get their man and that later in July he'll be training under Ancelotti's orders.