14

15
Taha Yassine Khenissi 72'
Tunisia beat Ghana on penalties to book African Cup of Nations quarter-final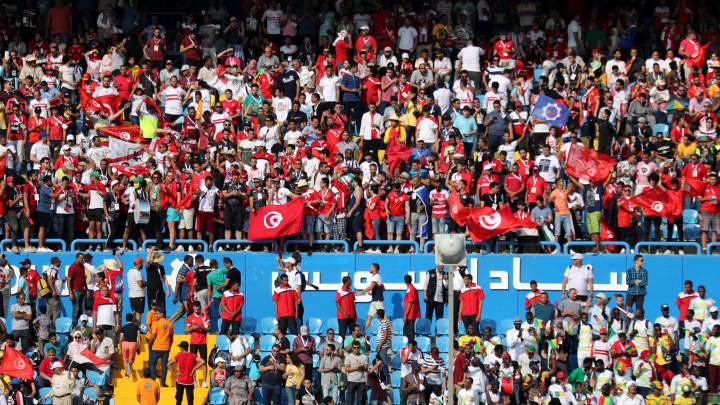 Ghana vs Tunisia: Live Updates
Tunisia are through to the quarter finals of the African Cup of Nations after they recorded their first-ever tournament victory over Ghana, winning a penalty shoot-out 5-4.
Tunisia almost had the game wrapped up in normal time and were 1-0 up with 91 minutes gone, thanks to a 72nd-minute goal by Khenissi. But Ghana were suddenly back in the tie after late Tunisian substitute Badoui headed an own goal past his keeper with his first touch of the game. And after 30 minutes of extra time, in which both teams made a few chances, Tunisia's substitute keeper Moustapha was the hero, saving Ghana's third penatly taken by Ekuban, before Bronn, Meriah and Sassi went on to score to give Tunisia a 100-percent record and a place in the quarter-final, where Madagascar await them.
Sassi scores, that's 5 from 5 for Tunisia and they've beaten Ghana at AFCON for the first time. Penalties end 5-4 to Tunisia.
Thomas scores. 4-4. Tunisia are next.
Meriah scores. 3-4 Tunisia. Ghana have to score to stay in it.
Agbenyenu scores. 3-3. Tunisia with pen in hand.
Bronn scores! 2-3 Tunisia. They have the advantage now.
Ekuban shoots and it's saved by Mustapha! 2-2 with Tunisia with a pen in hand.
Khazri steps up for Tunisia and slots it into the bottom right corner. 2-2!
Sliti drives it into top left corner. Solid! 1-1
Wakaso for Ghana scores! Farouk gets a hand to it but can't keep it out. 1-0 Ghana.
Ghana will take the first penalty, against sub keeper Farouk, who has just come on for the shootout.
And that's the end of extra time! It's all going to come down to penalties.
Tunisia have just replaced their keeper Hassen. They obviously fancy Farouk more in goals for the shootout.
Kwabena hits a clean low strike inside the Tunisian area. But Hassen gets down low to collect.
What a chance wasted by Ayew wasted for Ghana!!! Inside the box and with only the keeper in front of him, he tries a volley first time, but completely misconnects. He'll be kicking himself. That was probably the clearest opportunity of the game.
We're 5 minutes away from penalties.
Kwabena comes on for Owusu, who has been one of the stand-out performers for Ghana tonight.
The second period of extra time in underway!
And the ref blows up the first period of extra time. We're 15 minutes away from penalties here.
Ghana substitute defender Gyan connects well with his head in the Tunisian box once again. But again Hassen saves.
Another chance for Tunisia! Khazri fires an absolute rocket. It's on target but too close to Ofori, who fans it out for a corner.
What a chance for Tunisia!! Sliti disposseses a Ghanaian defender and rushes into the box. All he had to do was play a simple short pass to Khazri, who was completely on his own and with just the keeper in front of him. But Sliti fluffs the pass and Ghana breathe a sigh of relief.
Ghana sub Gyan gets his head on the end of free-kick set-piece pieced delivered from distance. And Hassen makes another great save to keep it out.
Tunisia get the first period of extra time underway! They were so close to recording their first Afcon victory over Ghana, but now find themselves playing on for another half hour with penalties looming.
Well I must say I can never recall a sub coming on in the 90th minute and scoring an own goal with his first touch. Tunisian coach Giresse will be regretting that decision.
Beep beep beep! And that's the end of the second half. Extra time it is!
Ghana have equalised!! And thanks to an own goal by Bedoui, who has literally just come on. Ghana put a long ball into the box from the set piece. And with his first touch of the ball, Bedoui has headed it over his own keeper and into the net. 1-1!
We're in to injury time, with favourites Ghana trailing by one goal.
Tunisia are five minutes plus injury time away from beating Ghana in the African Cup of Nations for the first time, after seven previous meetings in the competition.
Ghana captain Andre Ayew is replaced by Gyan.
Tunisia's Msakni comes off on a stretcher and is replaced by Sliti.
What a save from Hassen!! Wakaso shoots from distance and tries to curl it around Hassen, but the keeper gets a hand to it to tip it onto the post and out for a corner.
Tunisia have been a different team since Khazri came on a few minutes ago. After setting up a chance within one minute of his entry, he was also involved in the goal, playing a stunning back-heel to release Kechrida in the build-up.
Goal Tunisia!!! Defender Kechrida is released down the right thanks to some clever build-up play from his team mates. He puts in a low cross for Khenissi, and the striker sidefoots it, first time, off the post and in to the goal.
Tunisia hit the crossbar! Khenissi is the man involved again. He directs a great header towards goal from a corner. It had beaten everyone except the Ghana crossbar.
And Khazri comes on and makes an impact straight away. He beats a defender inside the box and cuts a nice ball back to Khenissi, whose shot is deflected. Chance of the game for Tunisia!
Tunisia's star man Wahbi Khazri has just come on for Badri. Can he inject some life into Tunisia here? He was not risked from the start after picking up an injury in the last game but he's on now and will be looking to break the deadlock.
A lot of Ghana fans complaining about the South African ref on Twitter. They're obviously feeling aggrieved after Ayew's disallowed goal at the end of the first half.
There is a bit more urgency about Ghana in the last few minutes. Owusu beats two men and plays a short pass to Thomas inside Tuinisia's third, who tried to play a quick one-two but his pass is poor.
Almost an hour gone and we're still waiting for the deadlock to be broken here. Ghana look the more likely to do it but are far from their best.
Ghana's Owusu does well to beat two defenders to make space for himself inside the box on the right. But his low cross is straight at the keeper.
Wakaso whips in a long throw to the box, Ayew connects with his head but it sails over the bar. First chance of this second half.
And Ghana get the second half underway. Let's hope for some more action in this period!
The teams are coming back onto the field to start the second half. Ghana will kick off.
The last time these two met in AFCON was in 2012, a game which finished 2-1 to Ghana.

Sitting on the bench for Tunisia is star man Wahbi Khazri, who was not risked from the start due to a knock picked up in the last game. Will he make an appearence in the second half?
Beep beep! And that's end of the first half. Ghana are slightly edging the competition after 45 minutes and had an Ayew goal disallowed just a few minutes ago. But Tunisia have had a few chances and will feel themselves very much still in this game.
Ayew has just scored with a sensational back-heel from 8 yards out. But the ref has ruled it out for an earlier hand-ball by Thomas in the build-up. Had he not, we would have had a contender for goal of the tournament there.
It's been a very stop-starty affair here. With 15 fouls in 40 minutes, it's just been impossible for the game to flow.
Well neither side had been particularly impressive in the tournament before tonight, and that trend has continued in the opening 35 minutes of this game.
Tunisia's Haddadi has a chance to whip in two crosses from the left in quick succession, but on both occassions has failed to find a team mate in the box.
Ghana's John Boye is down after a challenge by Sassi and looks in quite some pain. Time for the teams to re-group as he recieves some attention. It's been a pretty even affair so far, with Tunisia standing their ground well here.
Ghana have dispossed Tunisia in the centre of the field and Thomas tries his luck from 35 yards out. But the Atlético Madrid midfielder has guided it way over Hassen's bar. A pass to a team mate would have been a better option.
Tunisia have survived the set-piece onslaught and now have a corner of their own. Cross comes in from the right and Khenissi connects with his head, but it's cleared by Thomas.
Ghana have yet another set piece and for the first time they have really tested Hassen. Wakaso whips in the delivery from the corner on the right, and Thomas connects well with his head to force a good save from the Tunisian keeper, who also keeps out the rebounded shot.
One player from each side already in the ref's book: Ghana defender, Boye and Tunisia centre back Bronn
After a bright start from Tunisia, favourites Ghana are now stamping their authority on the game. They've had five or six set pieces in the last few minutes as they force the fouls and corners.
Thomas and Owusu put pressure on down the right flank and have forced another free kick. But Wakaso has overcooked the free-kick delivery and delivered the ball straight into the gloves of Hassen.
Ghana have another chance to whip in a cross from a free kick on the left. But again it's easily dealt with by the Tunisian defence.
Thomas has a crack for Ghana and wins a corner. The corner is whipped in by Waskaso but the danger is cleared away by a Tunisian head.
It's been a bright start for Tunisia. They have dominated possession in these first five minutes.
Tunisia free kick long ball comes in and finds Msakni by the byline. He tries to cut it back towards Badri in the six-yard area, but the Ghanian keeper gets to it first.
Early attempt from distance for Tunisia centre forward Badri, but it's easily saved by Ofori.
And Tunisia get the game underway
Ghana have won the toss, but will allow Tunisia to kick off.
The teams are making their entrances and we're almost ready to go here.
Meanwhile, Ghana's MVP is Thomas Partey of Atlético Madrid, who already has a goal to his name in the tournament.
With Khazri on the bench, the most valuable player in Tunisia's starting XI is Ellyes Skhiri. The French-born midfielder played 38 games for Montpellier last season, providing 3 goals and 2 assists.
Here's what the coaches had to say ahead of tonight's clash.
Appiah (Ghana): "My team is prepared both mentally and physically for the game on Monday. All our minds are on the game against Tunisia because we need to win the game on Monday so that we can think about other opponents."
Giresse (Tunisia): "Egypt and Morocco's exits are a huge surprise and we will give everything to continue in the tournament. Ghana are a strong and harmonious team. They are complete in most of the positions, but we analyzed them well and we can work on their weak points."
And below is how the QFs are sizing up, with tonight's winners set to face Madagascar.
This will be the eighth meeting between Ghana and Tunisia in the Africa Cup of Nations. The Black Stars' have never lost any of the previous encounters, with six wins and one draw. And they will back themselves to keep that unbeaten run going tonight.
And in tonight's other game: Ivory Coast have just beaten Mali 1-0 to secure their place in the last 8.
Here is Ghana's starting XI. No surprises there, as the two Ayew brothers start up front. They'll be expecting to knock in a goal or two tonight. Chelsea's Baba Rahman starts in defence, after setting up both of Ghana's goals in the 2-0 win over Benin in the last game.
Tunisia have released their team sheet and coach Giresse has decided not to risk star man Wahbiu Khazri from the start, after he picked up a knock against Mauritania in the last game.
Tunisia coach Alain Giresse has one major doubt in starman Wahbi Khazri, who suffered a muscle injury during the Carthage Eagles' last group phase match with Mauritania. The team's medical staff have been doing everything to ensure Khazri can start against Ghana. We await confirmation on that one.
Ghana have no injury concerns heading into the game, as coach Kwesi Appiah recieves a timely boost with the return of Thomas Agyepong and Jonathan Mensah from injuries. Kasim Adams is also back again from suspension.
Ghana will be favourties to advance as they meet Tunisia in the Round of 16 of the African Cup of Nations at the Ismailia Stadium on Monday night.
After draws against Benin and Cameroon, the Black Stars went on to beat Benin 2-0 to finish top of Group F, and will be confident of overcoming Tunisia, against whom they have never lost in eight meetings in the continental competition.
Tunisia, meanwhile, are yet to record a victory at this edition of the tournament, and have reached this stage on the back on three draws against Mali, Angola and Mauritania. While Alain Giresse's side go into this game as clear outsiders, they will fancy themselves to create another upset at this tournament, which has had its fair share of surprise results.
.