De Jong rejects Cruyff's '14' and will take Aleñá's '21' at Barcelona
The former Ajax player made clear the significance of the number to his family. Coutinho also looking for a new number with Griezman's arrival.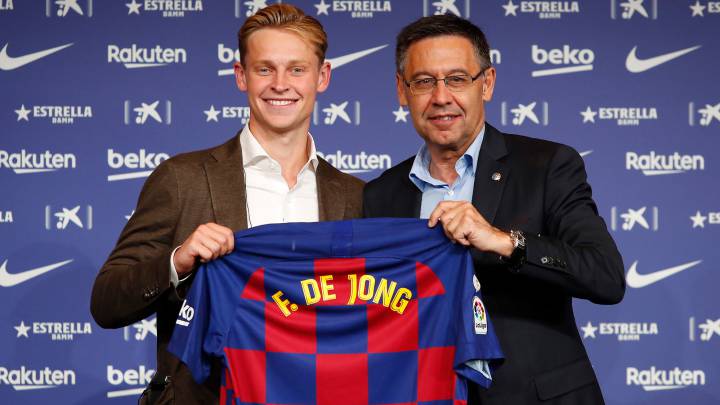 The arrival of Frankie de Jong and imminent signing of Antoine Griezmann will have an impact on the squad numbers at Barcelona. Both the Dutchman and the French striker have been unwilling at any point in their careers to give up what they see as their numbers: 21 and 7 respectively. The problem at Barça is that Coutinho has the number 7 and Carles Aleñá the 21 shirt.
The significance of 21 to De Jong
For De Jong his number is important for family reasons. Barcelona in fact offered him the legendary number 14, as worn by Johan Cruyfff, but the former Ajax player turned the club down. De Jong's grandfather, Hans de Jong died the day he was celebrating his 21st birthday - and since then De Jong grandson has worn the number as a tribute to him.
De Jong told Voetbal International, "I feel comfortable with that number. I could easily play with another number, you know, it's not a problem, but it is nice that it also gives people a way of recognising me.
"I brought my whole family to my presentation in Barcelona, except my grandfather Hans de Jong, my father's father. He died on the day of my 21st birthday. Unconsciously it is also a kind of tribute. He was a huge football fan."
In any event, it appears a fairly simple matter for Aleñá to choose another squad number, with a number available as of today: 16, 17, 19, 24 and 25.
Coutinho set to lose number 7 jersey
The reaction of Brazilian player Coutinho when he's told he's to lose his number 7 shirt will be interesting to see. It's Antoine Griezmann's lucky number and he's worn it during his entire career, including for France, meaning it seems unlikely he'll accept wearing anything else. The French forward is set to sign for Barcelona in the coming days, but Coutinho doesn't return to Barça until 4 August, giving the club time to calm the waters. What's more, the future of Coutinho at the Camp Nou isn't guaranteed, particularly if both Griezmann and Neymar come in.
If Neymar does return, Ousmane Dembélé will likely have to choose another number, as he's currently the owner of the number 11 - but so far the club haven't even thought about that issue...