Real Madrid: Vinicius turns 19 out to take the next step
Having won over the Bernabéu in his first season at Real Madrid, Vinicius must now prove himself to head coach Zinedine Zidane.
Vinicius turns 19 today and, despite the fact that he is still only starting out as a footballer, it is a birthday that comes at a crucial juncture in his career. Under re-appointed Real Madrid head coach Zinedine Zidane, it's almost as if the Brazilian has returned to square one at the LaLiga giants. His task now is to prove himself to the Frenchman, and pre-season is his opportunity to do so. In Montreal, though, he is up against greater competition than when he arrived at the club a year ago, with two players much admired by Zidane, Eden Hazard and Marco Asensio, shaping up as his starters on either side of the Madrid attack.
This jittery start to Vinicius' working relationship with Zidane has drawn more than one club into a speculative attempt to profit from the situation, most notably Real Valladolid, owned by ex-Madrid star Ronaldo Nazário, who enquired about the possibility of taking his fellow Brazilian on loan to the Estadio José Zorrilla. However, he certainly won't be leaving: the club see him as a crucial part of their long-term plans. Today, Madrid will make sure he enjoys his special day at their Centre Nutrilait base, but above and beyond birthday wishes, there'll be no major celebrations. After all, the youngster has work to do: there's a lot at stake for him on this tour.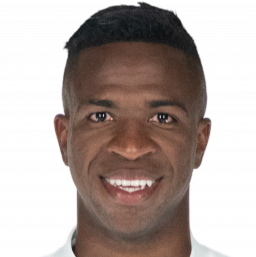 The experienced Marcelo has been at pains to push his younger compatriot on out on the training field in Canada and, in turn, 'Vini' has taken Rodrygo under his wing, with the 18-year-old in the midst of the same process of adaptation that he went through this time last year. Casemiro and Éder Militao, who both remain on holiday after taking part in Brazil's Copa América-winning campaign, will complete this block of Brazilians looking out for one another in the dressing room. Despite the evident faith in his abilities that exists in his native country, incidentally - "What's the difference between him and Ousmane Dembélé? He's every bit as good," insisted the former striker Edmundo last week - Vinicius also feels he has a point to prove back home after missing out on joining Casemiro and Militao in Tite's squad.
As he prepares for his second term at Madrid, Vinicius has made sure to take care of his body over the summer and has come into pre-season in fine fettle. Physically, he has visibly bulked up, in a clear indication of his development from boy to man. He is no longer the kid that asked then-boss Julen Lopetegui's permission to sign an autograph in New York last year. "In two months in Europe, I grew more as a player than in a whole year in Brazil," he told O Globo recently, in an interview in which he also discussed one of the chief question marks over his game: his finishing. "I work on my shooting with Zidane at the end of every session," he revealed. Having scored just four times from 76 shots last season, he is well aware of the strides he needs to make in that department, and is to double down on it in North America. With goals arriving this summer in the shape of Luka Jovic (27 last season), Hazard (21) and Rodrygo (12), he'll have to be more clinical to earn his place in the side.
First year at Madrid: 31 games, nine assists, four goals
Vinicius' first season in Spain was a success. After starting out in the Castilla squad at Lopetegui's behest (scoring four in five games for Madrid's 'B' team), he made his LaLiga debut in September's goalless draw with Atlético Madrid at the Bernabéu, albeit featuring for just three minutes. Under Santiago Solari, however, he became a regular in the side. In the end, he made 31 appearances for the first team (1,741 minutes in total), scoring four goals and supplying nine assists. The ankle injury he suffered against Ajax in March was traumatic both for him and the team, who missed his influence on several occasions after that. His breakthrough brought something different to the side, who benefited from his partnership with Karim Benzema, his inward forays from the wings and the numerous assists that he provided. Going on what we've seen so far, Vinicius has a bright future at Madrid... very bright indeed.