Christian Pulisic among top 10 most valuable U21 Players
The American youngster is once again in the top 10 list of the Most Valuable Players under 21, with French and PSG superstar, Kylian Mbappé.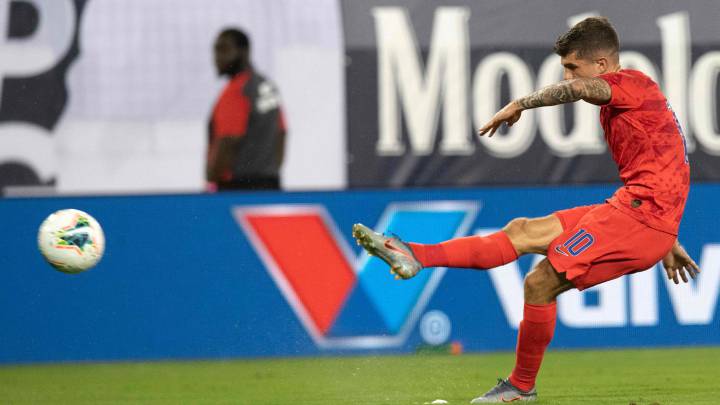 US international Christian Pulisic, who joined Chelsea in a club-record transfer deal, has been raising expectations at Stamford Bridge, where coach Frank Lampard believes he has a lot of potential, particularly after the high quality he displayed at the Gold Cup.
Pulisic was the one to follow during the summer tournament with the USMNT, where he led the America team onto the final against Mexico, which they lost due to a Jona Dos Santos goal.

Pulisic's improvement and high performances with the US national team have ensured that he remains amongst top 10 of the Most Valuable Players Under 21, a list published by soccerex. Although he dropped one spot from last year's ranking.
The 20-year-old winger is worth $64.3 million, which is less than the $73 million Chelsea spent in last winter's transfer window to sign him from Borussia Dortmund.
Top 10 Most Valuable Players Under 21
1. Kylian Mbappe - PSG - 20 years - 261.6 million euros
2. Jadon Sancho - Borussia Dortmund - 19 years - 120.3 million euros
3. Matthijs de Ligt - Ajax - 19 years - 74.5 million euros
4. Kai Havertz - Bayern Leverkusen - 20 years - 74.2 million euros
5. Trent Alexander-Arnold - Liverpool - 20 years - 73.6 million euros
6. Joao Felix - Atletico Madrid - 19 years - 71.8 million euros
7. Gianluigi Donnarumma - AC Milan - 20 years - 67.9 million euros
8. Vinicius Junior - Real Madrid - 18 years - 60.2 million euros
9. Christian Pulisic - Chelsea - 20 years - 57.2 million euros
10. Eder Militao - Real Madrid - 21 years - 54.6 million euros