Real Madrid: Florentino to fly out to Canada to speed up summer clear-out operation
The president will be with the squad in Montreal, dealing with those who are expected to leave the club: James, Lucas, Mariano, Mayoral, Bale, Ceballos and Vallejo.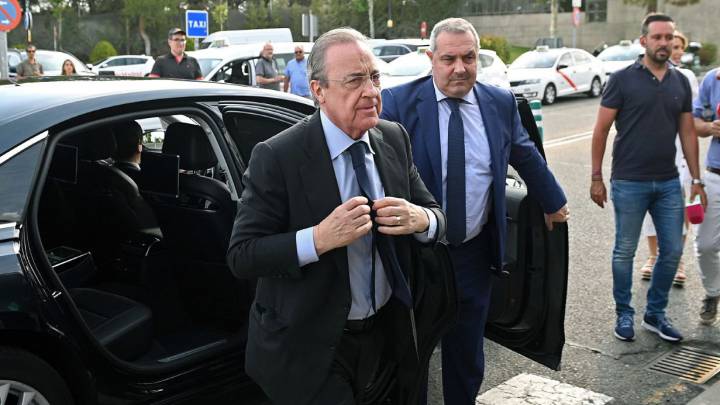 Florentino Pérez will fly out to Canada tomorrow to join up with the Real Madrid expedition in Montreal. The Real Madrid president will attend the team's International Champions Cup games against Bayern Munich, Arsenal and Atlético de Madrid in North America later this month. He has already spoken to Zidane about the personal problems which have forced the coach to return to Europe for the time being.
Seven Real Madrid players who could move on
Florentino is expected back in Spain on 28 July, by which time he hopes to have cleared up the situations of a number of players who don't feature in Zidane's plans and who are expected to move on this summer - either sold directly to other clubs or loaned out. Among the names on the president' list are James Rodríguez, Lucas Vázquez, Mariano, Mayoral and Bale. Keylor Navas could also be on his way out of the Bernabéu if Madrid deem any offers that come in for the keeper to meet their expectatiions. The club has already found clubs to take Martin Ødegaard and Sergio Reguilón on loan and talks are at advanced stage for Dani Ceballos and Jesús Vallejo to leave on similar deals.
Madrid hope to raise around 200 million euros with the second phase of their clear-out, - the first phase, which included the transfer of Mateo Kovacic, Marcos Llorente, Theo Hernández and Raúl de Tomás raised 125 million - enough to cover the purchase of Eden Hazard. Now Madrid are planning to boost funds to finance Paul Pogba's proposed move to the Bernabéu and that means offloading players who are surplus to requirements.
Straight sales
Florentino will be personally talking to all of the player who are in line to leave to find the best solution for everyone concerned. However, he will not accept proposals that could be to Madrid's detriment - such as Napoli's offer to take James Rodríguez on loan while meeting his salary. Madrid have stated that the asking price for James is 42 million euros plus variables and while that price is not negotiable, they would be open to accepting payment in installments.
As for Pogba, Manchester United have raised their price to 200 million - more than PSG are asking for Neymar...