James: Real Madrid set Napoli deadline as Atlético circle
With Real Madrid chief Florentino Pérez seemingly running out of patience with Napoli, Atlético Madrid's prospects of snaring the player are improving.
Real Madrid have given Napoli until the middle of the week at the latest to improve their offer for James Rodríguez, says Italian media outlet Calciomercato.com, as Los Blancos seek a fee of just over 40 million euros for the Colombia international.
Clubs not in agreement over price or transfer format
This ultimatum comes amid Madrid president Florentino Pérez's unhappiness with his Napoli counterpart, Aurelio de Laurentiis, over the latter's public assertion last week that the LaLiga club "are asking for too much money" and that the Partenopei "will not give in to unfair demands".
"Florentino has set a deadline of Wednesday or Thursday this coming week," Calciomercato reported on Sunday. "Napoli must say what they want to do about James. 42 million euros is the asking price".
The clubs have also failed to reach an agreement on the format of the transfer, with Madrid only interested in an immediate sale and Napoli keen to sign the player on an initial loan, before exercising an obligatory purchase option in 12 months' time.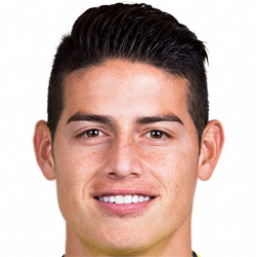 Atlético Madrid waiting in the wings...
As was reported by AS in recent days, Madrid would rather James moved to Italy, but if a deal falls through the Bernabéu club will have no option but to open talks with Atlético Madrid, who are also eyeing the 28-year-old attacking midfielder and are willing to meet their city rivals' demands.
James has told Napoli coach Carlo Ancelotti that he wants to join him in Italy and has agreed a 6.5-million-euro annual salary with the club, but his hopes of linking back up with the former Madrid boss now depend on De Laurentiis improving his bid for the star.