Real Madrid target Pogba: the price isn't right
Manchester United midfielder Paul Pogba's worth is set by transfer-value specialists at just over 100m euros, but Madrid are not likely to get him for that...
If this were a game of Football Manager, Kylian Mbappé would probably end up at Real Madrid this summer, capping an already club-record close-season spend of almost 300 million euros. However, despite being coveted by the LaLiga giants' hierarchy, coaching staff and fans alike, the Paris Saint-Germain striker looks to be a nigh-on impossible transfer target - at least until this time next year.
Which is why, for now, Madrid are focusing on other, more pressing items on their transfer to-do list: firstly, completing their summer clear-out of unwanted players, then finishing off their business by strengthening Zinedine Zidane's midfield options. Paul Pogba is the player that Madrid's coach has asked for. If Los Blancos' pursuit of the Manchester United man doesn't reach fruition, though, Christian Eriksen, Fabián Ruiz and Donny van de Beek are shaping up as the alternatives.
New midfielder should cost around 40 to 100 million euros...
Snaring the last piece in the 2019/20-season jigsaw will require one final, significant outlay. Before club president Florentino Pérez closes the chequebook for the summer, he ought to find himself shelling out somewhere between 40 million and 102.5 million euros - at least, that's according to the valuations provided by the transfer specialists Transfermarkt and the CIES Football Observatory, who set Pogba, Eriksen, Fabián and Van de Beek's expected price tags as follows:
| | | | |
| --- | --- | --- | --- |
| PLAYER | TRANSFERMARKT VALUE | CIES VALUE (AVERAGE) | AVERAGE VALUE |
| Pogba | 100 | 90-120 (105) | 102.5 |
| Eriksen | 100 | 40-50 (45) | 72.5 |
| Fabián | 50 | 70-90 (80) | 65 |
| Van de Beek | 40 | - | 40 |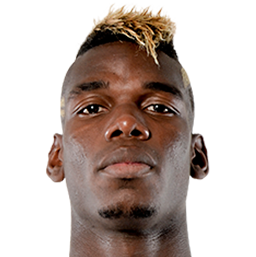 Pogba is Zidane's choice, but is also the hardest signing to pull off. A key figure at United, who are tough financial operators and don't want to sell, prising him from Old Trafford will take a lot of money - the Red Devils have not officially named their price, but aren't expected to go below 150m if and when they do - and just as much patience. However, the player ("It could be a good time to have a new challenge") and agent Mino Raiola ("United have known his feeling for a long time"), have both taken the necessary public steps to edge closer to a move to the Bernabéu.
Eriksen, Fabián, Van de Beek all cheaper alternatives
A deal for Eriksen, whose agent has kept in regular contact with Madrid in recent months, would appear to be easier to get over the line. Given that the Dane is out of contract at Tottenham next year and is stalling on an extension, the Premier League club would likely be forced to part with him for a knockdown fee, much like Chelsea's sale of Eden Hazard to Los Blancos. Also in the frame are Fabián, who caught the eye in Spain's Under-21 Euros win this summer, and Van de Beek, one of the stars of the Ajax side that took the Champions League by storm last term.