Barcelona 1 - 2 Chelsea: Rakuten Cup: match report, as it happened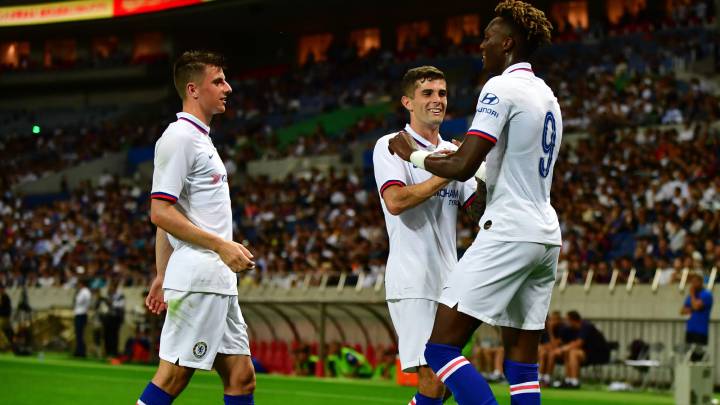 Goals from Tammy Abrahams and Ross Barkley gave Chelsea a 2-1 win over Barcelona in a rather lively and entertaining affair in Japan.
Having beaten Irish side St. Patrick's last week, this was the first real test for new Chelsea boss Frank Lampard. His starting XI edged an almost-even competition in the first half, creating a number of chances before Tammy Abrahams opened the scoring in the 34th minute, capitalising on a major defensive blunder by Sergio Busquets.
Barca were not without their fair share of first half chances, with new signing Antoine Griezmann and his French compatriot Ousmane Dembélé linking up on a number of occasions. But they failed to find the net before coach Ernesto Valverde replaced his whole starting XI for the second half.
Barca's substitute XI came out all guns blazing, threatening to score on several occasions in the first 15 minutes of the second half, with new signing Frenkie De Jong controlling and orchestrating things well in the midfield.
But they could not capitalize on their chances before Chelsea eventually gained control. And in the 81st minute, Ross Barkley – one of 10 second-half changes by Lampard – scored a wonderful effort from distance to give the Blues a 2-0 advantage. Barcelona clawed one back in injury time thanks to a fine long-range strike from Ivan Rakitic, which proved to be the last action of the game.
Lampard's men now head back to England, where they will face Reading on Sunday. Barcelona, meanwhile, are to remain in Japan and will face Andres Iniesta's Vissel Kobe on Saturday.

Peep, peep, peep! That's the ref's whistle. It's all over. The game finishes 2-1 to Chelsea.
Less than a minute after he scuppured a direct free-kick opportunity, Rakitic has scored a beauty. From 25 yards out, he rifles a shot into the top left corner. But Chelsea's defence seemed to have switched off; he should not have been in so much space.
Drinkwater fouls Malcom to give Barca a free-kick opportunity on the edge of the box. Rakitic takes the direct shot, but it's high and wide.
Barkely scores with a fine long-distance distance strike, guiding the ball passed the near post and leaving a badly-positioned Neto with no chance. Alonso provided the simple square pass to set Barkley up. 2-0 Chelsea!
Chance Chelsea! Batshuayi is released in the box on the left. He hits a low shot from round the six-yard area but Neto does well to save.
After an exposive opening 15 minutes to the second half, Barca's substitute XI have gone very quiet.
Chelsea make four more changes: Zappacosta for Kovacic; Batshuayi for Pedro; Bakayoko for Azpilicueta; and Drinkwater for Jorginho.
Kenedy has another pop, but this time the ball goes way, way wide.
Chelsea sub Kenedy forces Neto into a save after his shot takes a wicked deflection off Umtiti. That was their first real chance of this second half.
Barca in again! This time Alena lines up a shot from just outside the box after some great link-up play from the front men. This second half XI have looked more dangerous than the starting XI so far. Chelsea have been nowhere to be seen in this second half yet.
Chane Barca! Perez rounds one Chelsea defender in the box but his final shot is poor and straight at Kepa.
Barcelona work Rafinha into a shooting position just outside Chelsea's area. The Brazilian's shot is destined for the botton corner, but Kepa gets down to save. De Jong looking cool, sitting back playing short simple passes to his team mates just waiting for space to appear.
De Jong controlling and trying to orchestrate things for Barcelona in the centre.
Three changes for Chelsea: Emerson, Christensen and Luiz make way for Alonso, Tomori and Zouma.
Malcom has the first shot of the second half. But the Barca midfilder has pulled his long-range effort wide of the right post.
And Frenkie De Jong has come on to make his first appearence for Barcelona for this second half. All eyes will be on him. Valverde has changed his whole starting XI.
Peep, peep! That's the end of a pretty even first half. But Chelsea have the 1-0 advantage at the break thanks to Abraham, on the back of a major defensive slip-up by Sergio Busquets.
Amn Alba-Griezmann one-two puts the latter into a shooting position in the left side of the box. But Griezmann's shot is over and wide of the near post.
Griezmann and Dembele seem to have a real understanding up front. The pair have created another chance, as Dembele tests Kepa with a low-and-hard shot from 18 yards.
Pulisic has a chance to make it two after another defensive error from Barcelona, this time by Pique. But the ex-Dortmund man has blasted his shot into the side-netting.
The goal comes about as a result of a major blunder by Busquets as he tried to play it out from the back. Jorgino blocked the pass, and the deflected ball falls right into the path of Tammy Abraham, leaving him in a one-on-one with Kepa. The young English striker rounds the keeper with ease and taps it home.
Barcelona work the ball from left to right, patiently trying to build something. Griezmann is eventually found in space in Chelsea's third. He slides a simple pass to Dembele, whose shot is blocked and deflected high in the air, before Kepa comes to collect.
Chelsea do well to work the ball into a crossing position down the right. In the centre is Pulisic, but he's pulled his first-time shot wide of Ter Stegen's right post.
Chelsea test Ter Stegen again! This time it's Mason Mount from distance. But the shot is just over the bar and to the right.
Chance Chelsea! Kovicic and Emerson link up well in the centre of the pitch, before playing a ball forward to Pulisic. The US striker launches a decent effort that forces a save from Ter Stegen.
Compatriots Griezmann and Dembele link up well on the right before the former gets a shot off just inside the box. The shot's blocked however. It's been a decent debut for the ex-Atlético man so far.
Griezmann is back up on his feet and will play on.
Griezmann is down after a clash with Jorghino and he's receiving attention.
Riqui Puig, who has had a very bright start for Barca, plays a decent ball forward for Dembele in the box, but Kepa gets down to gather up the ball before the French striker can get a foot to it.
Sergi Roberto gives a great ball forward for Griezmann, who is in a 50-50 chase with Andreas Christensen. The latter gets there first and guides the ball out for a throw in.
Barcelona in full tiki-taka mode here. They string umteen passes together before Jordi Alba kills the play with a poor cross on the right. But they're now back in possession.
Puig fouls Pulisic. The free-kick is taken quickly to Emerson, who tries to square a low cross into the box from the left, but Umtiti snuffs out the danger.
Barcelona are working the ball around their own half, trying to find space.
Barcelona immediately dispossess Chelsea and win a corner through Jordi Alba. Griezmann gets a head to the corner delivery, dinks it on the unmarked Busquets, who heads it just over the bar.
Chelsea get the game underway!
The teams have emerged from the tunnel and we're almost ready to go here. Antoine Griezmann is sporting very slick-looking hair. New club, no do.
Barca fans will hope to see the club's other big signing, Frenkie De Jong, come off the bench at some point.
Antoine Griezmann spoke to media yesterday in Japan ahead of today's game: "To be honest, I didn't have a very good start because I got nutnegged twice in my first training session - Rakitic did one of them. Luckily I've learned my lesson. As for the phonecalls, Messi still hasn't called me but Suárez has congratulated me and welcomed me on board."
The last time these two met was back in March, 2018 in the Champions League Round of 16 2nd leg. Ousmane Dembele and a Messi brace secured a 3-0 win for Barca, after they had drawn 1-1 in Stamford Bridge in the first leg.
Lampard was out inspecting the pitch a little earlier. This will be his first real test as Chelsea coach...
It might be just a pre-season friendly but there is plenty of excitement regarding the debut of Antoine Griezmann in the Blaugrana shirt. Meanwhile, Chelsea's new US star Christian Pulisic looks set to play in first real test for The Blues, after an impressive performance against semi-pro Irish club St. Patrick's last week.
Hello and welcome to our live coverage of Barcelona vs Chelsea, which kicks off in an hour in Japan. In the meantime you can follow the build-up with us here.
.