Jasper Cillessen: "I don't miss Barcelona at all"
The Dutch goalkeeper joined Valencia last month and will be looking for the kind of regular first team action at Mestalla that he was deprived of at Barça.
It's been almost one month since Jasper Cillessen joined Valencia and the Dutch keeper admits there is nothing he misses about his previous club Barcelona. Cillessen is hoping to get the kind of regular first team action at Mestalla that he was deprived of at Barça.
Settling in
How's life in Valencia?
I like the club and the city. The squad's great and Marcelino makes us work very intensely.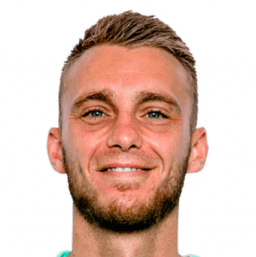 Is it how you expected it to be?
Well, to be honest, I wasn't really expecting anything. I wanted to play, I liked Valencia's proposal, accepted it and here I am. I'm happy to be here.
Did you already know about Valencia's interest when Barça played the Copa del Rey final?
I had no idea. I found out when I was in Holland.
Euro 2020
Did the fact that the Euros are coming up next summer influence your decision to leave Barça?
No. Koeman has never told me that I need to be first choice with my club to be included in the squad. He only take the level of my game into account.
Does it feel strange being at a club that isn't Barcelona?

Not at all. I don't miss anything. I've only been here for three weeks but for me, Valencia has got everything I need. At Barça, I wasn't playing. Ter Stegen is a great goalkeeper who keeps getting better and better. I spent three years there but I wasn't playing - and I want to play, not just train every day. For me, coming to Valencia is a step forward in my career although it'll be up to the coach how much I play.
Does training every day with Leo Messi help to improve goalkeepers?
Sometimes yes, sometimes not so much (laughs). Messi is Messi. He can turn you into a better keeper but at the same time, can make you feel a little inadequate about your abilities.
Early days playing football
Were you always a goalkeeper?
No. As a boy, I played football first as a striker then in midfield, but I played in goal too. I enjoyed playing in goal but my mother told me it would be better if I played outfield - because that way, I'd use up all of my nervous energy! (laughs). I was an outfield player and a goalkeeper in the same year at the same club. It was a bit crazy so in the end I decided to focus on being a goalkeeper.
Maybe that's were your skill at playing with your feet came from?
Well, I don't know about that. It's something I've always worked on. It's useful for a goalkeeper to be able to play the ball with their feet. In that aspect, I consider myself to be a more complete goalkeeper - I'm able to use both feet, my hands... .