Real Madrid: five injuries and many, many question marks
Real Madrid's poor results so far in pre-season have led to growing doubts about Zinedine Zidane's new project at the Santiago Bernabéu.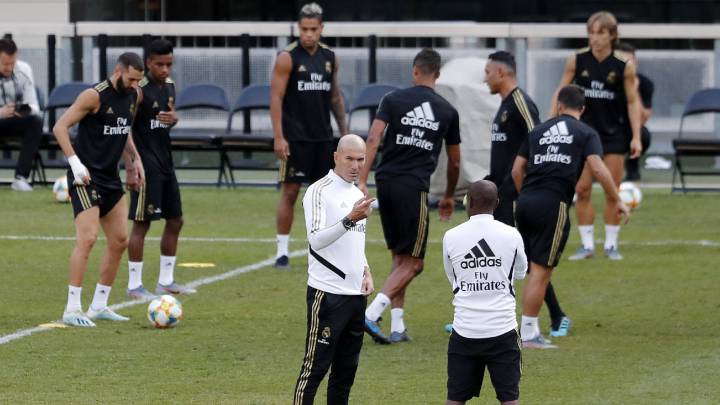 Marco Asensio, Luka Jovic, Brahim Díaz, Ferland Mendy and Thibaut Courtois all out injured. A record of one draw and two defeats in three games. 12 goals conceded, seven of which, humiliatingly, came in one very heavy defeat to Atlético Madrid. The feeling that, in physical terms, they are several steps behind every side they've faced. Eden Hazard aside, no real change to last season's XI.
Real Madrid's pre-season started out with high hopes: head coach Zinedine Zidane had opted to copy the programme of preparations followed by Los Blancos before their LaLiga-Champions League double-winning season in 2016/17, and in Grégory Dupont had appointed a fitness coach who, having helped France to World Cup glory in 2018, came with a sterling reputation. On top of that, Madrid had spent a club-record 298 million euros on overhauling the squad.
So far, however, not much has gone right.
Doubts about physical preparations
For a squad which, according to the specialist website Transfermarkt.com, is the second-most valuable in world football, their apparent physical shape falls well short of what one would expect. They've been second to pretty much every 50-50, something that comes down both to attitude and to fitness. And although Asensio, Jovic and Courtois' injuries are not muscular, Brahim and Mendy's are.
Speaking after the mauling by Atlético, both Zidane and his captain, Sergio Ramos, 'blamed' the margin of defeat on their opponents being too keyed-up for a pre-season warm-up. "We played a friendly; they went out there as if it were a cup final," said Ramos. Such excuses simply do not wash, and when it comes to the squad's physical preparation, something isn't quite right with the 'Dupont Laboratory'.
Still waiting for Zidane's revamp...
After returning as coach in March, Zidane was at pains to announce that changes were in store; that he was readying a revamped Real Madrid side. Up to now, though, his words have not translated into actions. Break down the minutes given to every player so far in pre-season, and you'll find just one summer signing among the seven men who have featured for more than 150 minutes: Hazard, with 151. The other six names ought to sound rather familiar to the club's fans: Toni Kroos (199), Ramos (170), Luka Modric (170), Marcelo (151), Isco (151) and Karim Benzema (151).
Given the aforementioned injuries, and with Casemiro, Éder Militao and Fede Valverde still to return after their post-Copa América holidays, circumstances have not helped Zidane to achieve a more even distribution of playing time, it must be conceded. His lack of midfield options has led him to overuse the likes of Modric and Kroos, with the latter filling in at anchorman in the absence of Casemiro and Valverde - and demonstrating once and for all that the role isn't for him.
Not only that, but the German's 199 minutes of action have offered up two further take-homes: a) that he is light-years away from the form that made him one of the planet's top midfielders; and b) that Madrid really do need Paul Pogba.
Pogba: a much-needed piece in the puzzle
While Zidane's eagerness to sign Pogba might previously have seemed like unnecessary extravagance from the coach, recent events have changed everything. It's not just Zizou who wants to add his compatriot to the squad now; the way things have gone this pre-season, you'll be hard-pushed to find a supporter who doesn't want him.
The overriding sensation in the thrashing by Atlético was that Madrid's midfield is far from a well-oiled, smoothly-functioning engine room. Los Merengues need someone who can help patch up the severed link between the different lines that make up the team; someone who can aid Modric in creating the play while also keeping an eye on the defensive side of things. That someone is Pogba.
Waiting for the dominoes to fall
The problem is that Real Madrid's president, Florentino Pérez, does not want to shell out Manchester United's expected asking price of over 150 million euros.
However, the Old Trafford club are throught to be close to sealing deals for Sporting CP's Bruno Fernandes and Lazio's Sergej Milinkovic-Savic for 70 million and 75 million, respectively. Once those transfers are over the line, United could well be persuaded to lower the amount they want for the Frenchman: not only would they have cover for his position, but they would also need to bring in some money if they are to go after their other chief target, centre-back Harry Maguire.
It's a case of waiting for the first domino to fall.
Right now, that's how Real Madrid's pre-season can be summed up: one major midfield signing needed; five men injured; and many, many question marks.