Neymar's market price has dropped to 180 million euros
According to Catalan daily Sport, PSG are not willing to accept players in any operation involving Neymar, which effectively rules out the player returning to Barcelona.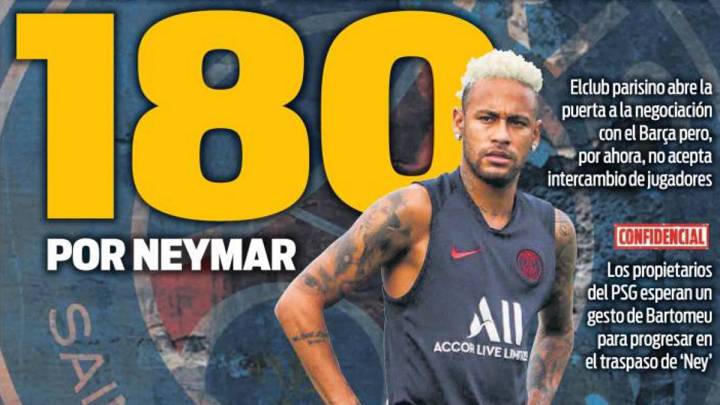 According to today's edition of Catalan daily Sport, Paris-Saint Germain have set a new price on Neymar. The French champions would accept 180 million euros for the player but are not interested in taking other players as makeweights to lower the asking price. That effectively means Barcelona won't be pushing ahead to bring Neymar back to Camp Nou as they simple don't have that kind of spending power. Sport explain that PSG are waiting for Bartomeu to make a move which might reactivate the operation but any straight cash deal looks almost impossible. If true, it's telling that the asking price Neymar has plummeted from 300 to 180 million since the start of the summer. It suggests that PSG now realise that Neymar is set to leave. Now they just need to find a buyer.
Time running out for Coutinho

Also in the Catalan press this morning, Mundo Deportivo focus on Philippe Coutinho's situation. Neither Barça nor the player's agents have received any offers for the Brazilian and the Premier League transfer window closes on 8 August. As it stands, PSG is the only club who could possibly take Coutinho but the French club have already been busy reinforcing their midfield with Pablo Sarabia, Ander Hererra and Idrissa Gueye joining in recent weeks so there may be no room for anyone else. Barcelona would be open to sending Coutinho out on loan to at least save a little on his wages.