Zidane's Kubo strategy
The Japanese teenager has looked more than accomplished in each of the pre-season games he has featured in, but appears destined to play in 2B next season.
This has been a pre-season campaign to forget for Real Madrid with the 3rd-4th place game and win in Munich against Fenerbahçe offering a brief glimmer of hope for Zidane as he prepares his side for the fast approaching 2019-20 LaLiga season. In the five games played in July, Madrid have lost three, drawn one and only managed one win, recording 11 goals for and an alarming 16 conceded (an average of 3.2 per match).
There are few positives to be taken from the July games with Benzema's three goals in Munich encouraging as has been the link-up play at times between Brazilian pair Rodrygo and Vinicius, but the one major source of optimism comes from 18-year-old Japanese player, Takefusa Kubo with the teenager impressing in the limited playing time afforded to him by the French coach.
Kubo's signing for Real Madrid generated immense media interest in his native Japan with a considerably showing of Asian media following his every move as Madrid's pre-season commenced at their Montreal base. Kubo featured for 45 minutes in the opening ICC 2019 friendly against Bayern Munich with an accomplished display, taking players on, helping out in defensive tasks and not being afraid to shoot on goal. Despite this positive debut, Zidane has offered the Japanese player less and less playing time as pre-season unfolds.
The former Tokyo FC player failed to grace the field for the Arsenal game and then was in action against Atlético for just 28'; featured for just ten minutes in the Audi Cup semi-final against Tottenham and was granted 17' in the 3rd/4th place play-off against Fenerbahçe. In each of these games, once again the teenager played with a poise, confidence and maturity that belies his age.
Zidane's Kubo plan
Despite the positive displays from the Japanese player, his immediate future appears to be with Real Madrid Castilla in 2B (Spain's third tier) with Zidane stating that he will talk to Kubo upon the conclusion of pre-season activity. "The ideal thing would be for Kubo to play with Castilla but train with the first team squad and see how that works", added the French coach in a recent press conference. "Kubo is a young player as is Rodrygo and Vinicius and we have to be careful to develop them slowly", added Zidane.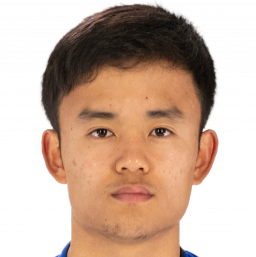 Real Madrid play two more games before the start of the 2019-20 LaLiga campaign and time will tell if the Japanese teenager is granted more playing time by Zidane as Madrid face Salzburg on August 7 with a trip to the Italian capital the following Sunday to face AS Roma at the Stadio Olimpico.