REAL MADRID
Fede Valverde's time to shine
The exits of Kovacic, Ceballos and Llorente have given Fede Valverde a real chance to break onto the scene this season with Zidane backing him too.
Federico Valverde is facing into a season where he can strengthen his place at Real Madrid. The midfielder, who will play his second season at the club having just turned 21, was given a vote of confidence by Zidane when he returned to the bench when it looked like he was heading out on loan.
With 11 games left in the league, Zidane took advantage of Real Madrid's hopeless position in the league to give chances to young players and to examine the squad. Thanks to that, Valverde got some starts. In give games he was named in the first eleven and he showed his credentials in those encounters.
The Uruguayan can play as the holding man in a 4-3-3 and as the defensive midfielder in a 4-4-2- and both positions in a 4-2-3-1. His qualities include his defensive awareness and commitment along with being able to spot a pass from midfield and his willingness to execute it. Zidane decided to sell Llorente to Atlético in the transfer window and take a punt on the 21-year-old as Casemiro's back-up.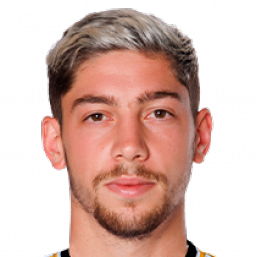 Valverde has won evern more playing time thanks to the exits of Dani Ceballos and Mateo Kovacic. It's taken as a given that Kroos, Modric and Casemiro will start in a midfield three to start the year but after that, Fede Valverde is the fourth midfielder.
Valverde's rise since arriving from Peñarol
He has spent three years living in Spain, two in Madrid and one in Coruña, and is hoping to get his Spanish passport. That way the club could free up a place in their squad for another foreign player.
After the Copa América, he returned to Madrid on July 22 and didn't travel to the United States. He stayed and trained with Raúl's Castilla side to get back up to speed.
In 2016, he arrived from Peñarol and played with Real Madrid Castilla in his first year before going on loan to Deportivo la Coruña for a season. Last year, Lopetegui had it clear in his mind that Casemiro was the starter and Llorente was the back-up. Valverde was left without minutes but the way things have panned out this summer, he is in for a big year.