REAL MADRID
Van de Beek most likely but other options still open
Paul Pogba is no longer an option for Real Madrid and Van de Beek's is the most simple to get done but Real Madrid are waiting with Neymar still a possibility.
Donny Van de Beek is waiting for news from Real Madrid in Amsterdam. He will benefit from the failed pursuit of Paul Pogba and while Madrid are currently thinking about Neymar, central midfield remains a concern. 
Zidane only has five midfielder (Casemiro, Modric, Kroos, Valverde and Isco) after the departures of Marcos Llorente and Dani Ceballos. He was relying on the recruitment of Pogba's versatility but that option is not as good as wiped out.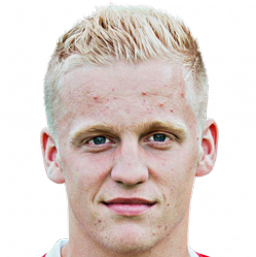 There are few alternatives the club can now offer Zidane. Van de Beek was not one of the players he asked for but he knows he can activate the deal at a moment's notice and Van de Beek is very keen. The agreement has been reached with the Dutch international. Ajax will not be a hurdle if Real Madrid do decide to move.
Madrid playing it cool with Neymar in their crosshairs
The economics of the deal (€50 million, a figure Real Madrid see as reasonable) and his wages are incompatible, however, with the Neymar deal that they are currently exploring. The numbers simply don't add up.
And meanwhile, Van de Beek waits in the departure lounge but Ajax are not hanging around and they have already lined up a replacement for the midfielder. Club Brugge's Hans Vanaken is one player mentioned but Hakon Evjen is another player, 19, who could arrive according to the Norweigan press. 
he is waiting for word from Madrid but he is still giving everything for Ajax. He played 90 minutes against Vitesse last weekend and then played against PAOK in the Champions League playoff during the week. This Saturday, he will line out for the Amsterdam outfit again when they play Emmen.