From Andorra to Zilina: A season watching football in all 55 UEFA nations
Intrepid football fan Matt Walker set himself the daunting task of attending a top flight game in each of the 55 UEFA nations over the space of just one season.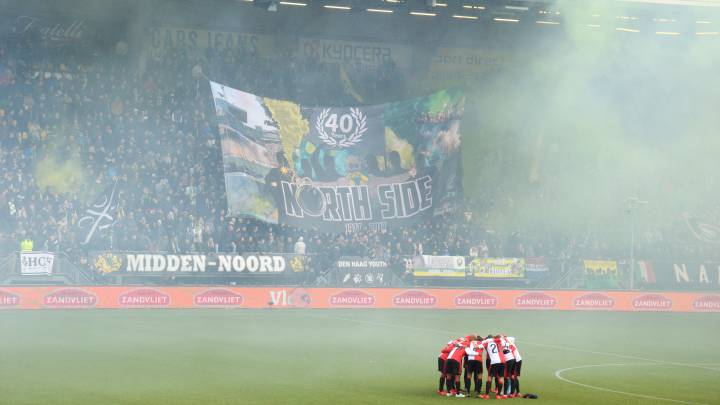 For the audacious football fan, the ultimate accolade is to complete 'The 92' (i.e visit every ground of all 92 teams who compose the top four divisions in the English football league system). That meritorious feat has now been overshadowed by completing 'The 55'...taking in a top flight game at each of the 55 nations that make up European football governing body UEFA, and doing so in a single season.
That accomplishment belongs to Fulham fan Matt Walker, author of the recently published book: "Europe United. 1 football fan. 1 crazy season. 55 UEFA Nations", where the 42-year-old British Ministry of Justice employee details adventures of the 2017/18 season where he carried out this valiant feat.
Walker's journey commenced in June 2017 in Georgia watching Dila Gori play Locomotive Tbilisi and concluded a year later attending a FK Kom home match in the 1,200 capacity Stadion Zlatica in Montenegro.
Coinciding with the book's publication, AS English caught up with Walker to discover how he survived the epic trawl in a season where he witnessed European footballing extremes, from games in Spain's LaLiga and Germany's Bundesliga through to action in the Faroe Islands' top flight, 'Betri Deildin'.
What inspired you in the first place to embark on the '55 country odyssey'?
"I was anxious to embark on a project that combined my two passions of football and travel and it was actually a book about Liechtenstein (Stamping Grounds by Charlie Connelly which follows the nation's efforts to qualify for the 2002 World Cup) that became a source of inspiration. It took approximately 18 months to then pre-plan the trip and it also afforded me time to save up to finance the travel."
Was there a deliberate strategy to avoid the bigger and more obvious clubs as part of the planning process when choosing matches?
"It was rather intentional as I was anxious to explore more unfamiliar stories that you may not find at places like Barcelona or Bayern Munich, clubs that already have plenty of existing literature and becoming just one of many football travelers was not really the experience that I was after. For example I went to Crotone in Italy rather than watch AC Milan or Juventus and on many occasions the experiences were perhaps a lot stronger and this is true when it came to the reaction from the fans. It was also a financial-based motive as it's far cheaper to visit these provincial towns rather than bigger cities."
What was the reasoning behind choosing Málaga as your Spanish ground?
"To be honest it had more to do with logistics as I needed somewhere close to Gibraltar with Andalucía being the obvious destination. I saw Málaga at home in a wild thunderstorm and was fortunate enough to be able to also see Sevilla play Atlético Madrid at the Sánchez Pizjuán, that game was possibly the highest standard of football that I witnessed across the entire trip."
Having witnessed games in all UEFA member nations, which fans impressed you most on the trip?
"I really liked the Trabzonspor fans in Turkey. I like cities which have just one main team and are somewhat anti-establishment. There was a real sense of that in the city; everyone supports the team and the supporters were incredibly friendly, offering me gifts of scarves and flags. Trabzonspor are by no means a small club and are possibly the fourth biggest club in Turkey but I don't think you'd get the same experience at the fourth biggest club in other major European leagues such as Germany or Spain."
Where do you go from here? Is it back to watching Fulham week in, week out again?
"I have renewed my season ticket for Craven Cottage but am also planning more football-related trips and am off to see Europe's most westerly top-flight team, Santa Clara, who play in the Portuguese Liga Nos but are based in the Azores. I'm off to Mexico later in the year and hope to brush up on my Spanish there and I guess it could be South America that would be a candidate for a similar lunatic time-scale adventure."
"Europe United" is available now and can be ordered via local Amazon or Book Depository websites.
Consult the 55 Football Nations website for more details on Matt Walker's Euro excursion