AZ Alkmaar: AFAS Stadion collapses in strong winds
Gales in the Dutch city have caused a huge chunk of the Eredivisie side's stadium to come down, but fortunately it was empty at the time.
Strong winds in Alkmaar have caused a section of the Eredivisie side's AFAS Stadion to collapse.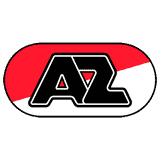 The Netherlands was hit with very high winds on Saturday and the AFAS Stadion, which was constructed in 2006, fell victim to the elements as a huge chunk of roof came crashing down in the Molenaar Stand.
Alkmaar's Europa League fixture postponed
Fortunately, the 17,000-seater stadium was empty at the time with Arne Slot's side due to play RKC Waalwijk away on Sunday.
However, Alkmaar's fixture against FC Mariupol in the third qualifying round of the Europa League, which is scheduled to be played in the AFAS Stadion next Thursday, will now be postponed.