"Bale's situation at Real Madrid hasn't changed"
Sources close to Gareth Bale have told AS that no new conclusions can be drawn from his surprise recall to the Real Madrid squad to face Roma.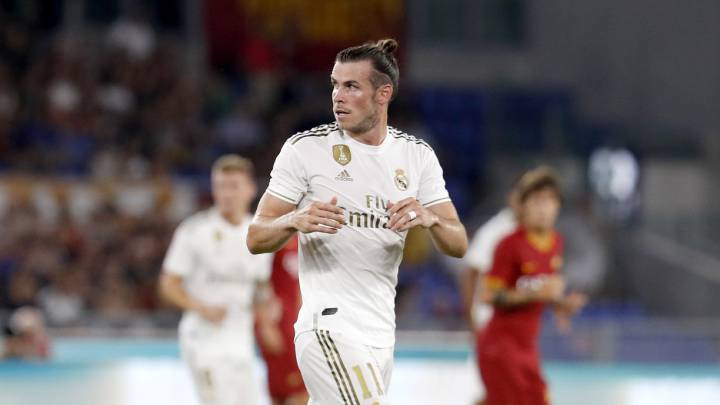 While James Rodríguez and Mariano Díaz were left out once again, there was an unexpected recall to the squad for Gareth Bale as Real Madrid took on Roma on Sunday night. Indeed, Bale's inclusion in the travelling party came as a surprise even to the player himself, a source close to the 30-year-old has told AS.
The question is: why did Zidane bring Bale back into the fold? Has the Frenchman had a change of heart over his future?
The verdict delivered by this newspaper's source will come as a disappointment to those who feel he still has something to offer the team and should stay at the Bernabéu - particularly if the alternative is to let him leave on a free transfer.
No clean slate for Bale under Zidane
"Has Gareth Bale been given a clean slate under Zidane? No, his situation at Real Madrid hasn't changed; nor will it," AS was told, in comments that again lay bare the breakdown in relations between player and coach. The LaLiga club certainly haven't sat down with Bale to tell him he's now back in their plans, at least.
If, like James and Mariano, Zidane considers Bale surplus to requirements in the Spanish capital, what explanation can be found for recalling him, but not the others? Did Madrid feel that, of the three, the Welshman in particular needed to be in the shop window? "I doubt it," was the withering response given by our source. "For whatever reason, he'll just have decided he wanted to use him."
11


Bale's inclusion in the squad comes just as news has emerged of Madrid's interest in signing Neymar from Paris Saint-Germain - and it is a reality that the club were counting on selling the likes of Bale and James to raise funds for major recruits such as the Brazilian or, until their hopes of a deal ended, Paul Pogba.
Whatever his motives for picking Bale, Zidane did at least choose his words better than in Houston when asked about him post-match, telling reporters: "As long he's still a Madrid player, he's available for selection. Until 2 September, anything can happen." With the Premier League transfer window now closed, Bayern Munich are currently shaping up as the forward's most presentable potential destination.