De Jong: "I'd prefer for Van de Beek to stay with Ajax"
The Barcelona midfielder doesn't relish the prospoect of facing his old team mate if he ends up joining Real Madrid. Ideally, he hopes he stays at Ajax.
Frenkie de Jong gave an interview to ESPN in which he chatted about Ajax's impressive Champions League campaign last season and how that team has since been dismantled. Many members of Erik den Hag's side are how at other clubs - De Jong and Matthijs de Ligt being two of the most noticeable examples. Another, who could be on his way out of Amsterdam is Donny van de Beek, who is on Real Madrid's radar. De Jong however, hopes his old team mate stays where he is: "I would prefer him to stay at Ajax because I wouldn't have him as an opponent and Ajax would stay strong. But if he moves to Madrid, I would be really happy for him. I think he deserves it. He's a great player. Then we will be able to see each other in Spain".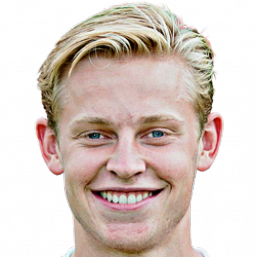 De Jong sings Van de Beek's praises
De Jong is convinced that Van de Beek has what it takes to play in any team in the world and would enchance Zidane's Real Madrid: "I am pretty sure he has the ability," he said. "I think he showed it last season in the Champions League, especially in the knockout rounds. I think he has shown to the world and everyone in Europe he has the ability to play at that level".
Exodus at Ajax
However, despite having left Ajax to join Barcelona, De Jong says he feels a bit sad to see his old team breaking apart: "I am really proud of the season we had and I am proud to see guys making big moves - I think they all deserve it. Of course I feel a bit sad - not that I regret it because I am really proud and happy to be at Barcelona but of course it's a bit sad that the team is breaking up. But you know that those things are going to happen when you have a season like that at a club like Ajax. It's just the way it is".