Messi, Cristiano and Van Dijk in line for UEFA Player of the Year
The winner will be announced during the Champions League group stage draw on 29 August. Last year Luka Modric lifted the award.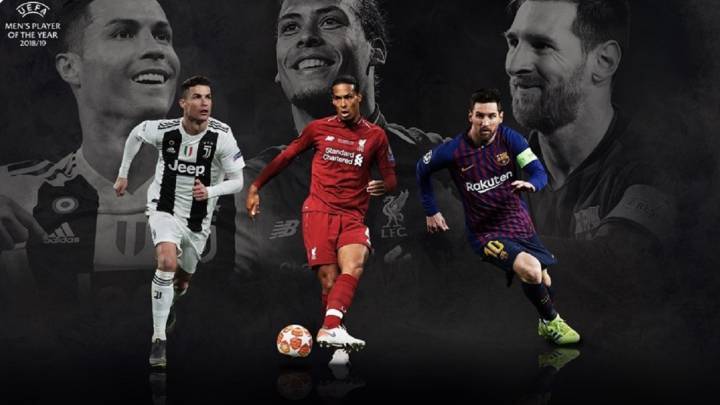 UEFA has announced the shortlist for the European governing body's Player of the Year Award, with Leo Messi (Barcelona), Cristiano Ronaldo (Juventus) and Virgil van Dijk (Liverpool) in the running for the gong, which was last year lifted by Luka Modric.
The winner of the award will be announced during the draw for the group stage of the 2019-20 Champions League on 29 August.
Ronaldo is among the final three once again and is the only player to have made the shortlist every year since the inception of the UEFA Player of the Year Award in 2011. The Portuguese won the Scudetto with Juventus in his first season in Serie A and led Portugal to victory in the inaugural UEFA Nations League earlier this summer. Ronaldo has won the award on three occasions (2014, 2016, 2017).
Messi was again instrumental as Barça won a domestic double and claimed the European Golden Boot after netting 36 times in LaLiga. The winner in 2011 and 2015, Messi was also the top scorer in the Champions League last season.
Van Dijk, who lifted the Champions League trophy with Liverpool and racked up a quite remarkable record for not being dribbled past in the process, is on the shortlist for the first time and among the favourites for the Ballon d'Or. He was also part of the Netherlands side that reached the final of the Nations League.
The remainder of the top 10
Alisson Becker - 57 points
Sadio Mané - 51 points
Mohamed Salah - 49 points
Eden Hazard - 38 points
Matthijs de Ligt – 27 points
Frenkie de Jong – 27 points
Raheem Sterling – 12 points