James: Real Madrid fans want Colombian at club this season
127,161 readers took part in an AS.com survey on James Rodríguez's future at Madrid, with an overwhelming majority calling for him to be kept on.
James Rodríguez should be a part of Real Madrid's squad this season, say the participants in a poll carried out by AS.com. Of the 127,161 readers who answered the question "Would you like James to stay at Real Madrid?", 81% (103,370) said yes, with just 19% (23,971) stating that they would rather see the Colombian offloaded before the close of the summer transfer window.
James' situation at Madrid has taken something of a U-turn. With the club's hierarchy happy for him to remain at the Bernabéu, it is coach Zinedine Zidane who is less keen to include the 28-year-old in his 2019/20 first-team group. However, Zidane is now making different public noises about the attacking midfielder's future, telling reporters last Sunday: "He's a player who is registered with us. He wasn't named in the squad for the two games [against RB Salzburg and Roma], but that can change. Until 2 September, anything can happen."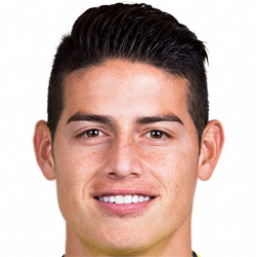 James seems likelier to stay at Real Madrid
As he seeks to convince Los Blancos' boss to include him in his plans for the coming campaign, James continues to train with his Madrid team-mates, with whom he maintains an excellent relationship. And with the LaLiga giants so far failing to add to Zidane's midfield options this close season - the Frenchman wants Manchester United's Paul Pogba and will push for his compatriot's signing until the end of the window - it is beginning to look increasingly likely that James will stay.
It's an outcome which, it seems, Madrid's fans would be wholeheartedly in favour of.