Jovic: "I laughed at loan move reports; Zidane believes in me"
Luka Jovic has said that he laughed off reports about his loan move away from Real Madrid and assured that he has Zidane's full confidence.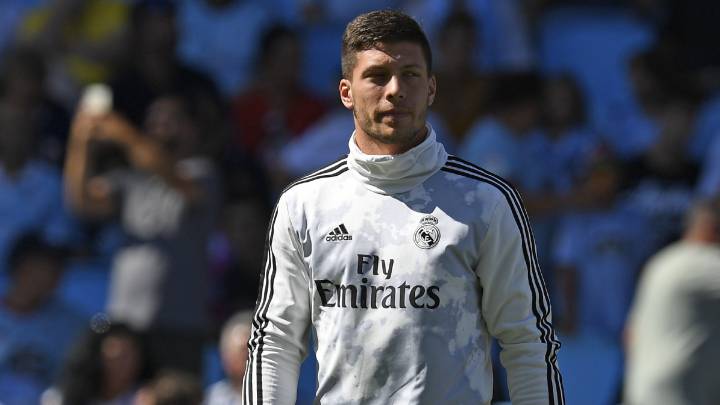 Luka Jovic has given an interview to Serbian outlet Novosti, in which he dismissed speculation about a loan move away from Real Madrid.
After signing from Eintrecht Frankfurt for 60 million euros in June, two major papers in his native Serbia last week claimed that the 21-year-old striker was set for a loan assignment; while a media outlet in Spain reported that he failed to convince Zinedine Zidane during the pre-season.
But Jovic told Novosti how he laughed off suggestions that he was set to move after having just joined the club, and assured that he had the French coach's full confidence.
"I laughed at some of the news. The media will always put out such stories," said the ex-Frankfurt star.
"I have gotten used to all kinds of rumours since the beginning of my professional career. I have accepted the fact that there will alway be these kinds of things. Time will tell what it is true."
Jovic: I avoided the papers at the beginning
The widespread Spanish footballing press is particularly saturated with stories regarding new Real Madrid signings. And the media savvy footballer went on to admit how he avoided looking at the papers when he first arrived in Madrid, preferring solely to concentrate on matters on the pitch.
"I tried not to read newspaper articles, not to respond to rumours like this and concentrate only on my game," he explained.
"That was the best thing and that is why that period passed quite successfully, without certain tensions."
Signing with Madrid has been a big jump for Jovic, who rose to the footballing world's attention during an impressive season with Frankfurt last year, during which he scored 27 goals across all competitions, including ten goals in the Europa League. But he explained that Zidane has been helping him with his adaption to playing at one of the world's biggest clubs.
"The nerves exist but disappear when I go out to the field," said the Serbian striker.
"Zidane believes in me and that has not changed during this time. I am learning from him day by day and I am very satisfied, because he, as a player and as a coach, is at the top of world football."
Jovic in no rush to become regular starter under Zidane
Jovic was given nine minutes in Madrid's 3-1 opening LaLiga victory against Celta Vigo last weekend and will no doubt be hoping for more game time in front of the home crowd at the Bernabéu against Valladolid this Saturday.
Although, the 21-year-old striker admitted he does not expect to become a regular starter right away and will bide his time as he works towards his ultimate goal.
"I am ready to do my best and offer everything I can. I don't even expect to play all the minutes immediately, considering I fixed the nets at the beginning of the season," he said.
"However, through work, effort and without resignation, I will reach my goal. I am satisfied with the way they have accepted me, I wish I could have scored from the beginning, but I am not in a hurry."