Neymar: Real Madrid feel patience is the key
Real Madrid, who are remaining in regular contract with the player, believe they're in a stronger position to sign him than Barcelona or Juventus.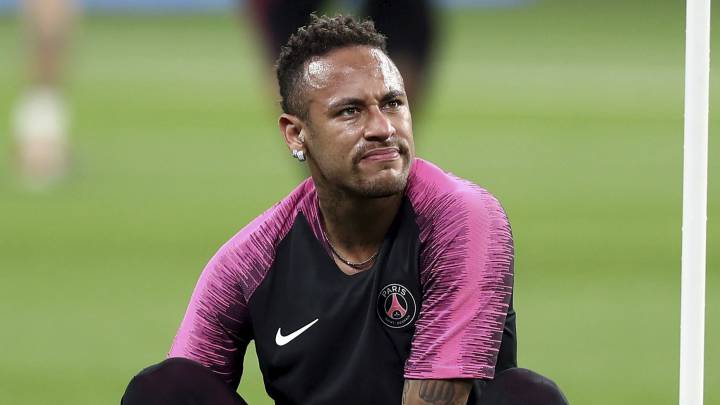 The Neymar transfer saga currently finds itself in a phase of nervous calm. Following Paris Saint-Germain's rejection of two Barcelona bids, the three clubs eyeing the Brazilian - Barça, Juventus and Real Madrid - are readying themselves for the next stage in the battle for his signature.
Madrid feel they are in a position of far greater comfort than Barça, with Bernabéu chiefs confident that a strategy of patience will be their best route towards a deal. It is Barça's board who are under the greater pressure to sign Neymar, not least from club captain Lionel Messi; indeed, sources close to the Blaugrana's talks with PSG have revealed that the Argentine is calling his former team-mate on a daily basis to ensure his desire to return to the Camp Nou does not waver.
Madrid feel cash-strapped Barcelona can't meet PSG asking price
However, Madrid are pretty sure Barcelona don't have the funds to make the kind of offer that will meet the demands of a club who paid a world-record 222m euros to buy Neymar from the Catalans in 2017. For that reason, Los Merengues' preference is to let the situation continue to play out, and only to take urgent action if Barça get genuinely close to agreeing a deal for the 27-year-old.

Otherwise, they'll let the clock run down until the very final stages of the transfer window, safe in the knowledge that this will strengthen their hand in talks with PSG, who are eager to sell Neymar and would be left in a race against time to get a deal done. In the meantime, the Brazilian intermediary Juni Calafat, a friend of Neymar's family, is keeping in regular contact with the footballer's father on Madrid's behalf.
Although Neymar would rather go to Barcelona, his chief aim is to leave PSG. If a return to Catalonia isn't possible, he'll readily move to the Spanish capital.
See also: PSG to turn to Real if no Barça Neymar deal on Friday - RAC1
Mbappé strategy behind lack of Real Madrid urgency
A major reason why Real Madrid are in far less of a hurry to sign Neymar is because his recruitment is not a long-term strategic priority. Purchasing his PSG team-mate Kylian Mbappé is, on the other hand - and it is a transfer that would be less likely to happen if the Brazil international joined this summer.

Mbappé's contract runs out in 2022, and Madrid believe the moment to go after him is this time next year. Their hope is that he doesn't renew this season, leaving PSG with no option but to negotiate his sale - or risk the striker reaching summer 2021 with just 12 months left on his deal, exactly the situation that led Chelsea to lose Eden Hazard to Madrid for a fee below the Belgian's true market value.
Signing Neymar now would complicate that strategy; however, if he ends up being available to Los Blancos at a reasonable price, they'll act. A bird in the hand...
Juventus have potential Dybala trump card...
Meanwhile, and despite one source venturing that Neymar "looks most likely to end up staying put", the possibility of Juventus securing his services can't be ruled out. They have held talks with PSG sporting director Leonardo in recent days, and have a potential ace card up their sleeve in the form of Paulo Dybala, who Paris coach Thomas Tuchel would like as Neymar's replacement. The Serie A club's cause is also helped by a new Italian tax law that would allow the player to keep hold of a greater percentage of his earnings.