REAL MADRID
James only thinking about Real Madrid stay after Saturday return
The treatment he recieved from Zidane along with the support from the club has James only thinking about Real Madrid where he wants to stay.
James Rodríguez was back on the Bernabéu field after 825 days when he lined out against Real Valladolid in their LaLiga home opener. He was removed after suffering discomfort on 55 minutes but his return to Real Madrid was more than acceptable. The crowd at the Bernabéu showed their appreciation too with a round of applause for the Colombian as he made way on Saturday.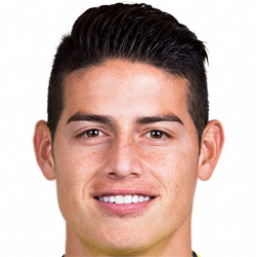 "After a long time, I returned to the Bernabéu, it has been a unique feeling!" he put on social media after the game. "Thanks to the fans for their appreciation. We will keep working to improve."
Zidane was quick to offer a hand to the attacking midfielder as he enquired about the muscle soreness he was suffering from.
James only thinking about continuing at Real Madrid
As have learned, after what transpired on Saturday with the start, the support from fans and Zidane and his performance, that James will not ask to leave the club and wants to stay and succeed at the Bernabéu.
Currently, he is only thinking about a future at Real Madrid and trying to show his very best version. Real Madrid and the 28-year-old currently seem to be on the exact same page after weeks of tension over his place in the squad and rumours of a move to Napoli and Atlético Madrid.
James was very keen on the idea of playing under Ancelotti with Napoli and also keen on moving across the city to Atlético Madrid, but his wishes now are only to play at Madrid. "He looked very plugged in," Ramos said after the game. Zidane is delighted with his attitude and he was rewarded with a start on Saturday.