Nadal on course for his fourth US Open and nineteenth grand slam
The Spanish tennis player has started the US Open in fine fettle, while neither Federer nor Djokovic are at their best.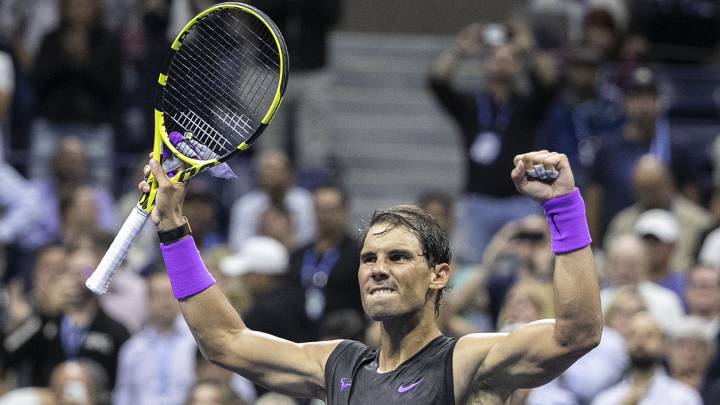 Rafa Nadal looked in fine form on his debut in the Arthur Ashe stadium. Millman, Federer's conqueror last year in New York, had no chance (6-3, 6-2, 6-2). Since his win in Montreal the Spanish player from the Balearic Islands has been looking dominant, with a spark about his game, playing with the consistency and solidity that makes him so fearsome...
What's more, this year fortune appears to be favouring him. Neither of his comrades in the Big Three are at their best right now. Federer is in the third round, but has played more minutes than he should have in his first two outings. He's lost two sets, both at the start of his matches, against Indian player Nagal and the Bosnian Dzumhur. Lapses that could cost him dearly. At his 38 years of age he goes into his matches facing a clear physical disadvantage and there is nothing more demanding than a grand slam. He can't afford to switch off and has always had a tendency to do so. Meanwhile, Djokovic handily beat Carballés and Londero, but is suffering a niggle in his left shoulder, the one which drives his exquisite back-hand, his best shot... All eyes are on how that develops.
Added to that, the early defeats for some of the heavy weights on Nadal's side of the draw allows him to see a fairly easy path to the final. Four top ten players have been taken out of his route: Thiem (#3 ATP), Tsitsipas (#8), Khachanov (#9) and Bautista (#10).
Clearly there's a long way to go, and there'll be obstacles to be overcome, but less than might have been expected. Nadal's eyes are gleaming with the ferocity of a tiger and he knows he has to take advantage of the opportunity to put pressure on his rivals and add to his record in the history books. A win in the US Open would bring him closer to Federer - the Swiss has not won here since 2008 - and increase the gap back to Djokovic, the reigning champion, against who he has a winning head to head record in New York: 2-1. I'm betting on Rafa.