UEFA Champions League group stage 2019/20: how it unfolded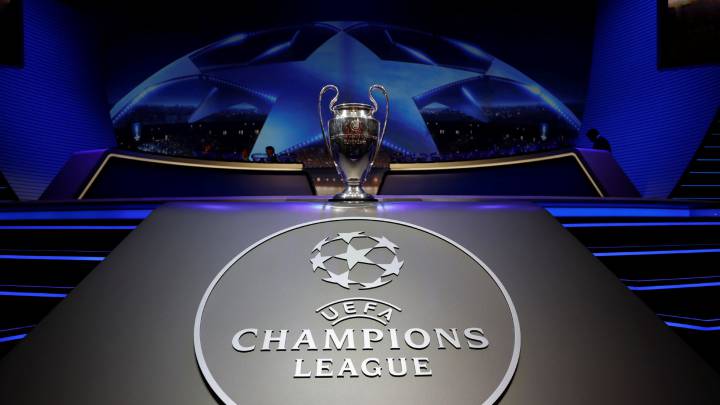 Champions League group stage draw 2019/20
Thank you for joining us from all corners of the globe. The action is not far away with the opening group fixtures on 17/18 September.
And that appears to be that from Monaco. A reminder of the awards handed out:
- UEFA Men's Player of the Year: Virgil Van Dijk
- UEFA Women's Player of the Year: Lucy Bronze
- UEFA Champìons League Goalkeeper of the Year 2018/19: Alisson Becker
- UEFA Champìons League Defender of the Year 2018/19: Virgil Van Dijk
- UEFA Champìons League Midfielder of the Year 2018/19: Frankie De Jong
- UEFA Champìons League Forward of the Year 2018/19: Leo Messi
The Liverpool defender talks about the hard work he put in to get to the very top. He also refers to Ronaldinho as an influencing factor due to the joy he had when he was playing.
Now for the award...
UEFA Men's Player of the Year: Virgil van Dijk
Now attention turns to the 'new boy' Van Dijk. The question is about the Barça comeback ("hopefully Messi doesn't understand much English", she says) which he describes as a really unbelievable match.
Ronaldo makes the point that it is incredible that the two of them have shared this stage so many times over 15 years. He then points to Messi being younger but that he expects to be back in this setting next year.
Messi is first to be interviewed as the three stars sit together on the front row. The Barça man replies politely in his native language, then Cristiano responds in English. The presenter can't help but ask them both about their relationship being, as it is, a rare occasion to have them both together...
The montage shows goals, goals and tackles
Lucy is not in the studio but has a video message lined up giving her thanks. Well done!!!
The Women's Player of the Year is England's Lucy Bronze!!
A change of scenery is called for as we await the presentation of the male and female players of the season. Cue montage...
Those on stage have continued apace, and the awards for #equalgame are being described. Dortmund and Scott Cunliffe getting the credit and recognition they fully reserve.

Here is the full set of groups
OK, that all flew by rather fast so let's recap...
And finally, Galatasaray into Group A
Slavia Prague join Group F
Lokomotiv Moskva into Group D
Leipzig into Group G (they could top it!)
Atalanta complete Group C
Right, back to the draw, Pot 4
Two awards for you before we conclude the draw:
Midfielder of the Season: De Jong
Forward of the Season: Messi
And to finish, Lyon into Group G, along with Zenit and Benfica. An open group building.
Brugge in Group A with PSG and Madrid
Olympiacos into Group B with Bayern and Spurs.
Dinamo Zagreb join Man City and Shaktar in Group C
Salzburg go into Group E. Liverpool and Napoli for them.
Valencia go into Group H, with Chelsea and Ajax (nice travel plans for the Londoners!)
Leverkusen next. They join Juventus and Atleti in Group D.
The toughest of this pot Inter Milan are first out. And they will go into Group F. Barcelona and Dortmund await!!
We're half way through, and we're straight onto Pot 3...
Some tasty fixtures already in place. How are you feeling?
That leaves Atlético Madrid who join Juventus in Group D
Napoli go into Group E with Liverpool.
Shaktar have been placed in Group C along with Man City.
Real Madrid are out...and they will go into Group A with PSG.
Benfica next. Zenit say hello in Group G.
Dortmund out. They join Barcelona in Group F
Ajax next out. And they're into Group H. Chelsea won't mind that.
First out: Tottenham. They go into Group B against Bayern
Now it's time for Pot 2. Hold on to anything you can...
Strong, handsome, suave, speaks a bunch of languages, has a few quid in the bank... Don't you just hate him!?
That's the teaser out of the way. Before we find out who joins the top seeds, time to find out the top defender. Not hard to guess, given his place in the final three.
Defender of the Season: Virgil van Dijk
Liverpool go into Group E, Barcelona (F), Zenit (G), Chelsea (H)
Next out Bayern Munich (Group B), Man City (Group C) and Juventus (Group D)
Giorgio Marchetti gets Sneijder to delve in...and he picks out PSG. They go into Group A.
It's almost time for the draw! A quick recap of the pots, rules, exceptions, pairings, etc. The folk on stage are very familiar with all this so no need to worry. Pot 1 clubs being placed in the eight groups should occupy the next four minutes...
The Brazilian talks about his Champions League win last year and how his objective was always to succeed in Europe.
Right, first award of the evening. Goalkeeper of the Season: Alisson Becker. The Liverpool and Brazil stopper steps up.
Cech asked about his success in this competition, his calmness in tough situations, and if music is where his future lies after his recent retirement. He's a drummer, don't you know! It's a hands thing.
Sneijder spoke very well but there's already that feeling of 'we came here for one reason, can you get a move on'. Next onto the stage, Petr Cech.
Here's that Cantona speech from before:
"As flies to wanton boys, we are for the goats. They kill us for the sport. Soon the science will not only be able to slow down the ageing of the cells, soon the science will fix the cells to the state and so we will become eternal. Only accidents, crimes, wars... will still kill us, but unfortunately crimes and wars will multiply. I love football. Thank you."
Next up, the most capped Dutch player of all time: Wesley Sneijder.
Attention turns to the location of this year's final. Hamit Altintop is the ambassador for the Turkish hosts, and a mention is given to Liverpool's incredible comeback in 2005 against Milan. Most people would take a similarly exciting final in Istanbul next May.
The Man Utd legend steps up and has a speech in English ready. " When the seagulls..." No, the delivery was similar but the words were different. I'll try to bring you the exact text shortly
UEFA chief Aleksander Čeferin is welcomed onto stage. He talks warmly of the man who is to receive the President's Award: Eric Cantona
First things first for UEFA, remind the watching crowd how good some of the players in this tournament. It's montage time...
Well, I make it 18:00 and, wait, what's that? Is that the tippy tappy sound of cleanly polished shoes stepping onto the stage?
For anyone who is unaware, the final of this year's tournament will take place on Saturday 30 May at the Atatürk Olimpiyat Stadı in Istanbul. Just think how much of the Beautiful Game we get to see between now and then.
The first games are less than three weeks away!!
17/18 September: group stage, matchday one
1/2 October: group stage, matchday two
22/23 October: group stage, matchday three
5/6 November: group stage, matchday four
26/27 November: group stage, matchday five
10/11 December: group stage, matchday six
And after all that we'll be back for the Round of 16 draw on 16 December
With Pot 1 having a generally menacing look about it, the Russian champions Zenit were quick to pop a joke at themselves lining up as top seeds
Last year, Barcelona's talisman had virtually promised to bring back a long-awaited Champions League to the Camp Nou. And he was an Anfield miracle away from delivering. Can he do it this season?
If you're interested in how it is all decided, the shortlisted players are selected by a jury of 80 coaches from the clubs that participated in the group stages of the 2018/19 competitions, plus 55 journalists selected by the European Sports Media group (one from each of UEFA's member associations).
Jury members chose their top 3 players. The first name given 5 points, the second 3 and the third 1. (Coaches could not vote for players from their own team)
Now you know!
Note that there will also be awards handed out for during the evening for best keeper, defender, midfielder and striker over last season. They'll likely be interspersed throughout proceedings with the usual killer montages.
As always, we'd love to get your input into the draw and awards today so please leave a comment in the section at the bottom with your views.

Liverpool's VVD was an outstanding factor in the Champions League triumph, their record-breaking Premier League season, and the Dutch national team. Is he your choice?
Then there is the other factor for fans who are aiming to go to the games. Which stars of world football will be visiting their club's stadium to see up close and personal? And what three away trips can they look forward to? For this reason, get your flight/hotel planners up and running...
With just an hour to go, excitement levels are rising. Not only do managers and players find out who they will be pitting their wits against on the field, but fans of these 32 teams will see how easy or hard their progression is likely to be.
Interestingly, the Merseyside club take their place in Pot 1 despite not having one of the best eight UEFA coefficients. But the organisation of the four pots, as you'll know, is actually rather simple, with the winners of last season's two tournaments getting a spot. There are a few other rules to consider though.
Liverpool arrive into the draw as one of the formidable opponents of Pot 1. And their manager is impressed with the strength across the groups.
Hello and a very warm welcome to everyone who has joined us to find out the fate of the 32 teams in the 2019/20 UEFA Champions League group stage draw. I'll be giving you all the information you need - and some that you most likely don't - as we build up to the pot emptying ceremony...
.