2
Roberto Torres 6', 80' (p)

2
Ansu Fati 50',
Arthur Melo 63'
Barcelona concede late penalty to draw with Osasuna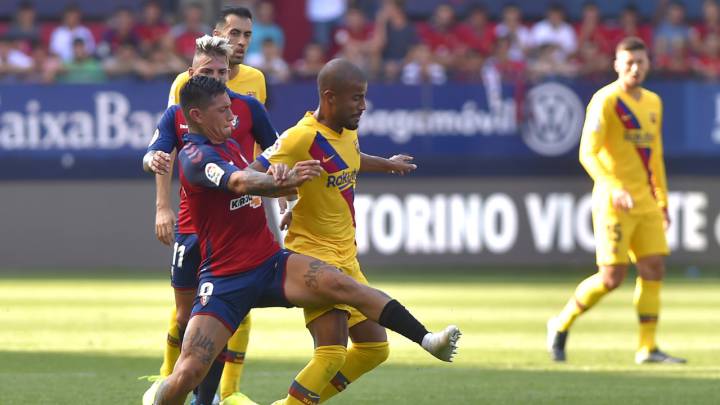 Osasuna vs Barcelona: as it happened!
GAME OVER! Barcelona can only manage a draw against Osasuna as they extend their unbeaten streak at home to 27 games.
Lenglet booked late on as he catches Avila on the counter. Handball too, it looked like.
Cross from Alba. Cut out and kicked away.
Offside and a push on the back on Avila. Barcelona with one more chance to push forward and find an equaliser.
Osasuna with more defending to do. Free from Perez and his head's gone after that miss. He sends it out over the endline. Wasted chance.
Torres eyeing a hat-trick but drives it over at the back post. Decent chance but probably should have squared it.
Carles Perez with the worst miss you'll see. He goes to shoot and then thinks again and before he knows what's happening, Ruben is at his feet stealing the ball from him.
Fati goes down in the box but it was a fair challenge and he kicked it out for a goal kick too.
Barcelona set up camp in Osasuna's half. Busquets kicks it out for a goal kick. That's really not good.
Vidal with a little chipped pass in behind the back line and Aridane puts it out for a throw.
Arturo Vidal on now to save the day for Barcelona. De Jong makes way.
Penalty call. Pique handles the ball as he tries to block a cross.
Villar with his first touch and he forces a good save from Ter Stegen. They've had loads of chances today.
Brandon is replaced by Villar.
Torres connects with a cross but he heads it over.
Now Ibañez hits the deck in the box but he was just moving too fast and fell over on the turf.
Roberto Torres fancies his luck and Ter Stegen saves again.
Frenkie de Jong very lucky not to see his second yellow. He catches Avila in the head with an elbow as he looks for the ball in the air. Free for Osasuna but no yellow.
Chimy Avila wants a free but he doesn't get it. He stays down and Barcelona don't kick it out but they do slow play down to give him a chance to recover.
Change for Osasuna and it's Fren Merida making way for Moncayola.
Osasuna looking for a response. Barcelona way more comfortable since the Arthur goal.
Ruben Garcia is off and Rober Ibañez is on as Osasuna's first change.
Brandon with the chance to respond straight away as the cross comes in. He's wide open and heads it well wide.
Brandon Thomas manages to get the ball out from under his feet and strikes but Ter Stegen saves that one. He has been good so far and so have Osasuna but just lacking something in the penalty area.
Lovely effort from Carles Perez. He tries to bend it around Ruben with his left but the keper is equal to it.
Barcelona have lost control of this again after the goal. Just a very flat performance from them overall.
Lovely cross in and Sergi Roberto heads out. Brandon gets an effort away after the ball lands to him in the box. He hits it wide though.
Perez with a strike on his left now but it's blocked. Osasuna counter.
Arthur comes on for Rafinha.
GOOOOOOOOOOOOOOOOAL! Ansu Fati with the equaliser. He heads it into the bottom corner from a cross on the right.
Wonderful chance for Osasuna as they make a chance on the break. Chimy Avila, the last person you think wouldn't shoot, doesn't shoot.
Fati pops out to Alba and he tries to get it back to him but Ruben nabs it. Osasuna start again.
Barcelona on the ball and trying to eye up Osasuna's defense. They had no luck in that first half, but the introduction of Fati should at least help.
Second half is a slowburner.
We are back underway for the second half.
One minute left now as Barcelona continue to try and figure things out. No dice as they concede a throw.
Alba goes down under a challenge in the box. Looked like he tried to buy the spot kick. He doesn't fool the referee.
Osasuna just need to keep it calm now as Barcelona try to make something happen. They'll probably want to get in for a chat too, to see what's happening here. They've been completely out of sync today.
Four minutes of added time. We are into the second minute.
He's back up and will make it to half time at least. He doesn't look entirely comfortable but he's back up and trying to jog it off. Seems an ankle injury.
Injury for Lenglet. He is down and his ankle, or calf is injured. His left leg the problem.
Ansu Fati is out warming up.
Carles Perez with the shot on his left out on the right. Dribbles into Ruben Martinez' gloves.
El Sadar wants the ball back! They whistle Barcelona's spell.
Frenkie de Jong races forward, loses the ball and then wins it back before himself and Alba run into each other and they lose it again. Maybe that sums up their first half better.
Roberto sends one out for a throw as he mistimes Alba's run. That sums up Barcelona's first half so far.
Roberto Torres gets a shot off. It bounces up just lovely for him and he sends it almost over the stand! Terrible effort but he hit it well at least.
Frenkie de Jong gets a yellow card for a foul on Torres. Second Barça player in the book.
Jordi Alba with a tame right-footed effort.
Ball crossed in from the left and headed away fairly easily as Barcelona win another corner. They are turning the screw here in terms of possession but still no clear chances.
Sergi Roberto with a yellow card now for complaining.
Rafinha looked to be fouled but referee says no again. Barcelona playing it around on the left and back again into the middle. No way through yet though.
Semedo pressed again and Osasuna attack. Handball on Chimy Avila. Now we have a hydration break.
No breakthrough for Barcelona yet though. More pressure on Semedo and he kicks it out for a throw.
Osasuna, as expected, looking slightly tired after such a hectic start.
It was Sergi Roberto who hit the deck but would have been very soft.
Barcelona much more comfortable now but still not dominating as they might like. Cross from Alba and there looked to be a foul there as a Barcelona defender is wiped out of it with the ball in the air.
Eventually taken and sent in but Pique pulls back Aridane. Free to Osasuna and a chance to gather themselves.
They win a corner. It's worked short but the referee wants a retake.
Griezmann lays a ball into the box off to Sergi Roberto. Blocked and Barcelona continue to attack.
Barcelona asseting some control on this now as Osasuna take a well-deserved breather. Barça building.
Another attack from Osasuna but Pique steps in and clears. De Jong struggling to get up to speed in this one.
Corner is headed out and then sent back in but Barcelona clear.
Chimy Avila falls over and manages to win a corner for himself in the end.
Another Barcelona attack comes to nothing.
De Jon blindsided and loses the ball now but Osasuna can't capitalise.
Semedo put under pressure and kicks out for a throw.
Fran Merida comes over to speak to the referee after a foul on his teammate Avila. He gets himself booked instead.
Osasuna on the hunt again and they win it back but the long ball down to Pique is headed down to Busquets.
Barcelona still can't get anything going. Osasuna are really struggling to grab a foothold in this one. Osasuna buzzing around the place.
Nasty collision between Carles Perez and Ruben Garcia as both of them look shook. Free for Barcelona and it looked quite dangerous from Garcia. Play continues with no cards.
GOAL! Play continued after that penalty shout but Osasuna continued to attack. Ball whipped in from the right and Roberto Torres volleys it home.
Penalty maybe! There was talk of a handball from the corner but it's not coming.
Another corner for Osasuna.
Piqué slides in on Brandon. His touch took the ball away from him and he tried to buy a foul. Pique lets him know he's not happy about it either. Plenty of needle here so far.
Barcelona finally get the ball down and get a chance to play it around Osasuna but they're really not making their life easy. El Sadar roaring on every last tackle and ball contested!
Ball bobbles around for a bit and then Estupinan sends the ball into the stands with a clearance. It was too close to Barcelona's goal to be a clearance though. It was just a hoof in any old direction.
Osasuna land a corner for their hard work early on.
We are underway at El Sadar! Osasuna pressing Barcelona early on but Piqué gets the ball away.
Barcelona in their yellow strips as Osasuna in their classic red and navy.
"The team picked today is a sporting decision, Rakitic will play a lot of games this season," says Jon Aspianzu on GOL ahead of the game with speculation increasing over the Croatian's future.
Osasuna's biggest outlay this summer was on Ruben Garcia. He was on loan at the club last season as they walked the Segunda. He scored seven and assisted eight goals during that campaign.
Rakitic is reportedly in the process of leaving Barcelona but he makes the bench today. Still no Arthur game time though. Juventus have also reportedly asked about Tobido after Chiellini's knee injury yesterday.
Osasuna are unbeaten in LaLiga this year too by the way! A 1-0 win in the first game thanks to a Chimy Avila strike followed by a boring 0-0 draw with Eibar has them sitting fifth in the league and feeling pretty good about themselves.
Osasuna XI: Rubén, Nacho Vidal, David Garcia, Oier, Fran Mérida, Avíla, Torres, Brandon, Rubén Garcia, Aridane, Estupiñan.
Osasuna have not lost for the last 26 games in a row at their home stadium. Due to remodelling work, there will only be 100 tickets for general sale today! It will be packed to the rafters as they try to extend that run to 27 against one of the very best teams in the world.
Valverde keeps the faith. He starts the exact same eleven as last weekend against Betis at Camp Nou. It worked out okay in the end as they won 5-2 but there were a couple of hairy moments in the first half after the went 0-1 down through Nabil Fekir. They really were incredible in that second half though as Griezmann got his feet wet and really endeared himself to the Camp Nou faithful.
Barcelona XI: Ter Stegen, Semedo, Piqué, Lenglet, Alba, De Jong, Busquets, Rafinha, Sergi Roberto, Pérez, Griezmann.
Ansu Fati is in the squad again though. The 16-year-old became the second youngest player to feature for Barcelona in a LaLiga game against Betis last week. Spain want to fast track him into the national team and Valverde seems to be putting his trust back in him. What a meteoric rise that is.

Hello and welcome to our live online coverage of Osasuna vs Barcelona as the latter travel to El Sadar without Messi, Suarez or Dembélé. Kick-off is at 17:00.
.