For 12 hours, Santi Cazorla thought he had joined Real Madrid...
On 27 August 2008, the midfielder called up his great friend Iker Casillas to announce that he would be joining Real Madrid. The next day, the deal fell through...
For 12 euphoric hours, Santi Cazorla thought he would be joining Real Madrid. It was on 27 August 2008, when the Villarreal midfielder found a spare moment to make a quick phonecall to his great friend Iker Casillas and deliver the good news. The conversation was captured by a cameraman working for the now-defunct television broadcaster Canal 9. In the clip, Santi can be heard asking Iker to give him a hand while he settles in: "Look after me when I get there, eh? I'll need some support because I'll be the newboy and I'm not going to have a f**king clue, ok?" Cazorla told the Madrid goalkeeper before adding just before he hung up: "I'll send you a text message when I get there tomorrow, ok? Right then, thanks Iker".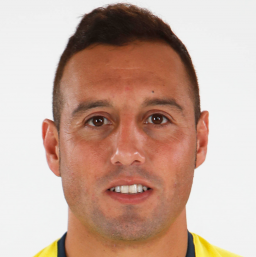 Cazorla all set to join Madrid
The operation was obviously at a very advanced stage because Cazorla had already said his goodbyes to his team mates and club employees and now it was just a question of whiling away the hours before setting off for Madrid that evening. It was just after midday and the only thing on Santi's mind was how his new adventure with Bernd Schuster's Real Madrid. News had leaked that he would be unveiled at the Santiago Bernabéu. Cazorla made the headlines in the sports press the following day - but not for joining Real Madrid - for signing a contract extension with Villarreal. His buy-out was hiked to 20 million euros.
For 12 hours, Villarreal president Fernando Roig had toiled to keep his star player from leaving, and managed to do so with just one meeting. Roig has always assured that his counterpart at Real Madrid, Ramón Calderón hadn't gone about things in the right way. "He didn't act like a gentleman should in these cases. When I want to sign a player, I go directly to the people I need to talk to about it. If we come to an arrangement, great but if not, I'll look into alternatives", said Roig, who did everything he possibily could to convince Cazorla to stay.
'Se queda'
Santi agreed to the offer of an improved contract and remained at the club for the next three seasons before finally moving on, first to Málaga, then Arsenal. Years later, Cazorla explained to AS that his proposed move to Real Madrid didn't go ahead "for purely football reasons", and added, "It's very flattering when a club like Real Madrid wants to sign you. They are one of the best clubs in the world, but sometimes things don't turn out the way you hope and you have to follow your own path in life".