BUNDESLIGA | BORUSSIA DORTMUND
Jürgen Klopp after winning the Bundesliga: "I woke up alone, in a van in an empty garage"
The then-Borussia Dortmund coach recalled how he got a bit carried away during celebrations after his team were crowned Bundesliga champions.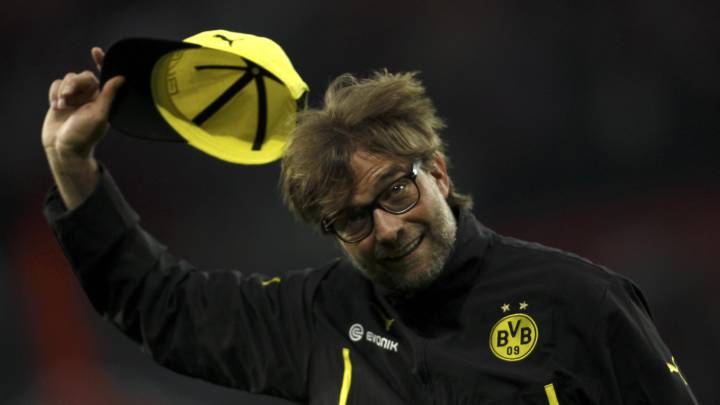 Jürgen Klopp made history in 2011 by winning the Bundesliga winning Borussia Dortmund but nine years on, the coach says he doesn't actually remember very much about it. His team beat Nuremberg 2-0 to claim the league title for the first time since 2002 - prompting the coach, players and club staff to party through the night.
Klopp on the sauce
In Amazon Prime's Inside Borussia Dortmund documentary, Klopp admitted that his memories of that fateful evening were a little hazy. "I can't remember very much that makes any sense," the Liverpool manager explained. "I was really drunk, which I think you could tell in the interviews I gave. But I do remember one thing, I'm not sure if I've told this to anyone before. I woke up in a van in a garage. I was completely alone. I remember it, but I have no idea what happened in the hours before that".
After stumbling out of the van, Klopp recalls entering a large room and seeing the silhouette of a figure. "It was Aki Watzke, (Borussia CEO). I whistled to attract his attention and I could see him slowing down. We were the only two people in an enormous patio". Watzke takes up the tale, "Jürgen was wasted, he always enjoyed partying harder than anyone else". Both were supposed to be with the team, celebrating winning the league with fans but as they discovered, the roads had been blocked and were virtually free of traffic.
Chickens in the back
Watzke managed to stop a van and ask for a lift. At first, the Turkish driver refused to take them to the city centre. "But when Aki pulled out 200 euros, he changed his mind and accepted", said Klopp. But it was anything but a comfortable ride. "Aki sat in the front and I was in the back, banging my head on the sides. I could hear clucking noises, I thought I was dreaming - but no, the boot was full of live chickens..."
Watzke continues: "There were also three dead calves which had only just been slaughtered but Klopp probably didn't even realize".
The following year, Borussia retained the Bundesliga title, but this time, the celebrations were a more restrained - at least for Klopp: "I told myself I had to pace myself..."