Real Madrid Femenino, Tacon and Madrid CFF are 3 different clubs
Real Madrid's decision to start a Women's team has caused some confusion among fans. We explain the difference between Real Madrid Femenino, Tacon and Madrid CFF.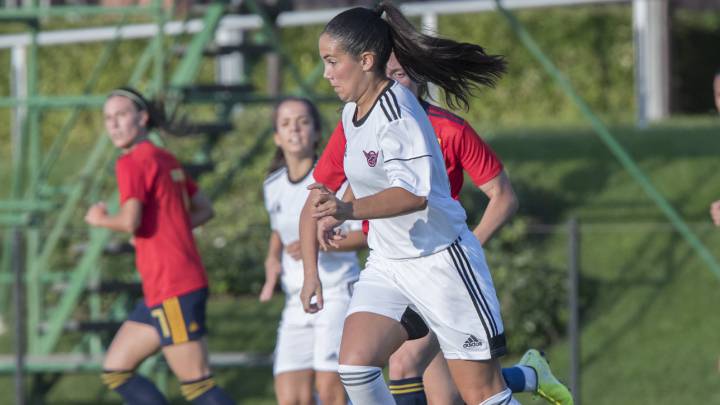 Real Madrid Femenino - Real Madrid's new Women's team, is just a few months away from coming to fruition. The club are preparing to lauch their women's team in 2020-21 and will do so, through taking CD Tacon's place - although the final decision will be made by club members at the next General Assembly on 15 September. For that reason, it is not quite correct to call Tacon 'Real Madrid Femenino' just yet. Aside from that, the actual name which Real Madrid's Women's team will take has not yet been registed as a club - even though the name Real Madrid Femenino is being used by the media and fans to describe a club which still does not exist, and that only adds to the confusion.

While Real Madrid club members still must vote one way or another in eight days' time, it is looking highly likely that the proposal will be passed and Real Madrid will absorb Tacon and as from next season, will become Real Madrid Femenino. Until that happens, Tacon will maintain their own identity (club crest and colours). This season, Tacon moved from the Hortaleza base to begin training at Real Madrid City in Valdebebas (where the Real Madrid's men's team and youth categories train). That is another reason why many already consider Tacon to be Real Madrid Femenino. However we will have to wait until June 2020 until Real Madrid's women's team becomes a reality.
Adding to the confusion is Madrid CFF - an independent women's team founded in 2010 by Alfredo Ulloa, a businessman and owner of optical retail chain Ulloa Óptico. Ulloa set up his own club partly so that his daughter Paola, a goalkeeper, could play regularly with a women's team in Madrid. While he could not create a club using the name Real Madrid Femenino, Ulloa created one which is similar in terms of its name, club crest and club colours. That similarity has also led some to associate Madrid CFF with Real Madrid.
To summarize, here are the differences between the three clubs:
Real Madrid Femenino: a women's football team which will be launched by Real Madrid for the 2020-21 season. It will absorb CD Tacon (formerly CD Canillas) - a club which was constructed and has developed their sporting project with the possibility of eventually becoming Real Madrid's official women's team.
Tacon: a women's team which plays in La Liga Iberdrola. Founded by former player Ana Rosell, the club signed an agreement with Real Madrid to be absorbed by Los Blancos next season. In the meantime, the Taconeros are working at Real Madrid's training complex to prepare themselves for the date when they will become Real Madrid Femenino.
Madrid CFF: an independent club which has played in the top flight Liga Iberdrola since 2017. Founded by Alfredo Ulloa, the club has always been related to Real Madrid due to their similarities despite having no direct, institutional connection apart from th fact that the president and several of their players are Real Madrid fans and/or socios.