INTERNATIONAL
Ter Stegen admits Germany situation is driving him a bit mad
The Barcelona shot-stopper is one of the very best keepers in the world and is in his prime but he can't get a look in with Germany as Neuer stands in his way.
Marc-André ter Stegen might feel like his football career is a paradox. He has been nominated FIFA's The Best goalkeeper award and amongst all the other award nominations but he can't get a game for Germany.
Maneul Neuer, the man he can't supplant in goals, has not been nominated for any of the top awards. At 33, he has suffered injuries in recent years and some criticism regarding his decline.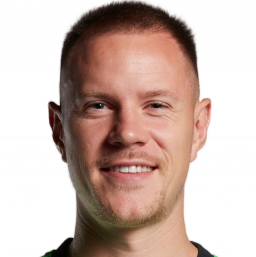 The Bayern shot-stopper started against Netherlands on Friday night and barring a surprise will start again against Northern Ireland, who lead Group C with three points more than the Germans.
All Ter Stegen can do is wait but he does acknowledge his strange situation. "Obviously, it drives me a bit mad. You give the best of yourself and you aren't where you want to be," he told T-Online.
"I have established my priorities. I want to be successful and the big objective I have is to be the first choice keeper for my country," he said. "But not at any price. Football is one thing but humanity is more important. I want to be able to look at myself in the mirror and say 'you worked honestly and dealt openly with your ambitions."
Ter Stegen admits that it hasn't been easy though. "It's not easy at all, but patience is part of being a footballer. There are times when you have to wait. 
One thing that is often mentioned is Ter Stegen's decision to leave Germany while Neuer is constantly in the spotlight in Germany and with Bayern. "I don't regret it," he said. "The experience of playing abroad has made me better."